Benny The Beer (Hacksaw Gaming) – Slot Review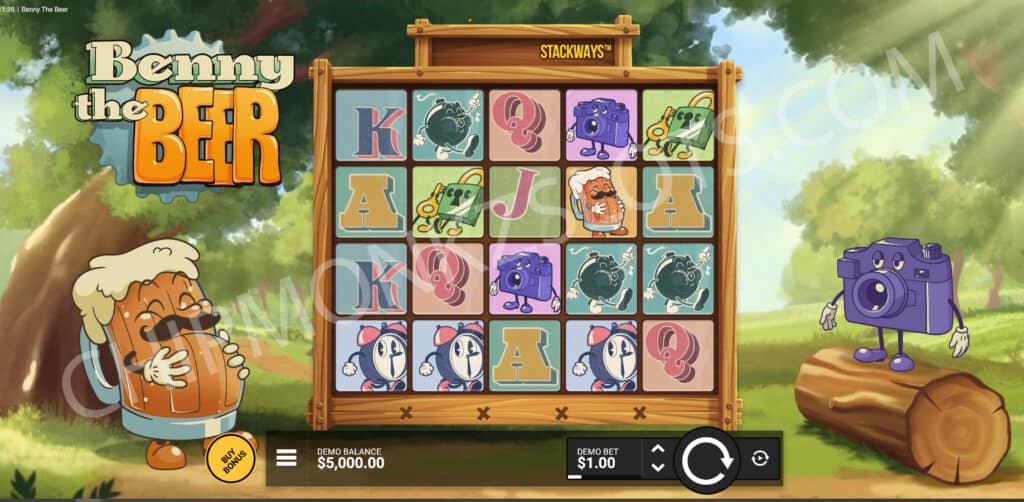 Hacksaw Gaming continues to dazzle the slot game world with its array of iconic duos. Famous characters like Ross & Maxx from RIP City and Canny & Mona from Drop 'Em have already caught the attention of players. Their latest creation, Benny The Beer, introduces a new beloved character—a pint of beer replete with a joyous expression and a beer belly that's impossible to ignore. In this adventure, we're also introduced to Benny's quirky companions, such as a camera character that graces the right side of the reel set.
The visual setting for the game is the picturesque Foaming Forest, a serene oasis where sunlight dapples through verdant trees. However, the atmosphere shifts dramatically as you trigger the Free Spins feature. The tranquil forest transforms into a festive venue adorned with decorations and a keg of beer, setting the stage for an unforgettable party with Benny and his friends. I'm particularly captivated by the imaginative characters Hacksaw Gaming creates, complemented by their intricately detailed art style. This aesthetic richness is further amplified by immersive sound effects and engaging soundtracks, making the gaming experience truly exceptional.
Benny The Beer offers a compelling slot experience, featuring a 5×4 reel grid and an impressive 100,000 potential pay lines. The game is high-volatility, with a fixed RTP of 96.17% and a maximum win limit set at 10,000x your stake. Betting options range from £0.10 to £100 per spin.
Benny The Beer Symbols & Pay Table

The game includes 12 distinct symbols, comprised of four low-value symbols represented by J, Q, K, and A, as well as five high-value symbols depicted by Locks & Keys, Alarm Clocks, Cameras, Bombs, and Beers. Additionally, there are special symbols such as Stackways, Revealing Stackways, and a Free Spins Scatter. The Beer symbol ranks as the highest-paying, yielding 4x your stake for a five-symbol combination.
Benny The Beer Features & Mechanics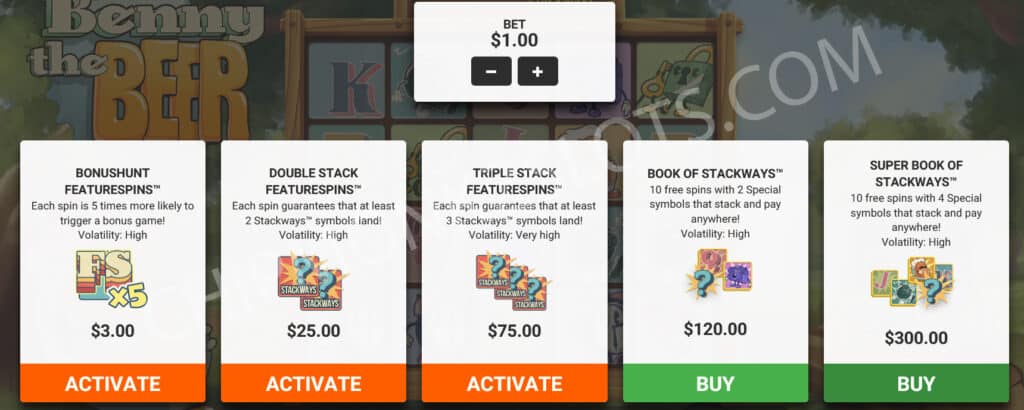 Stackways symbols dynamically transform an entire reel into a stack of 2 to 10 identical paying symbols. Regular Stackways symbols come with potential values of 2, 3, or 4, while Revealing Stackways symbols can unveil values ranging from 5 to 10. The symbol for the stack is selected based on which option would result in the longest winning combination among the currently visible reel symbols.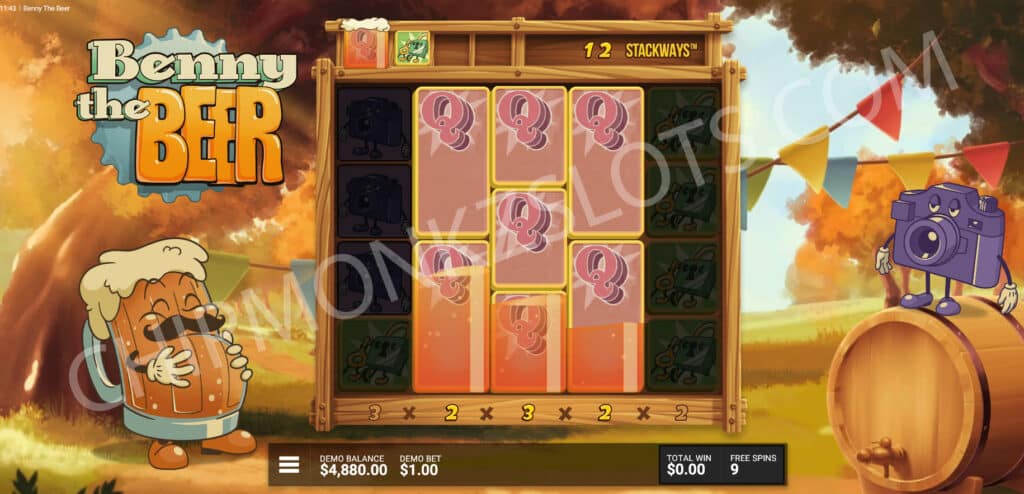 Book of Stackways
Triggered by landing three scatter symbols during a base game spin, the Book of Stackways feature grants 10 Free Spins and selects two random symbols to serve as special stacked symbols. When one of these designated symbols appears on at least three reels simultaneously, indicators under the reels light up to display a number between 2 and 10, indicating the number of stacked symbols on each reel. Extra Free Spins can be won by landing additional scatters, with two or three scatters awarding 2 or 4 extra spins, respectively. The feature can also be upgraded to Super Book of Stackways by landing 4 scatter symbols, or it can be directly purchased for 120x your chosen stake.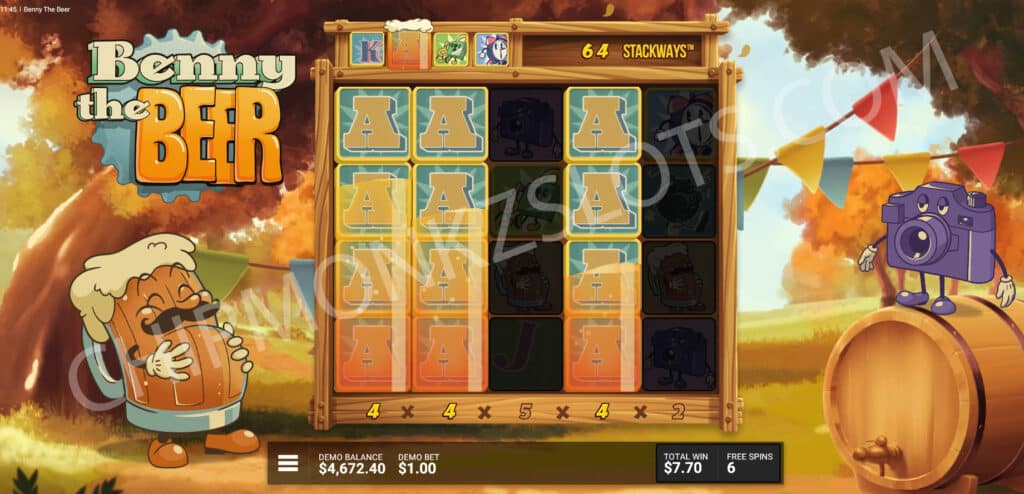 Super Book of Stackways
Initiated by four scatter symbols during a base game spin, the Super Book of Stackways feature is similar to its standard counterpart but selects four random symbols as special stacked symbols. Landing additional scatters during this feature adds extra spins, and the feature can also be purchased outright for 300x your chosen stake.
Conclusion
All in all, Benny The Beer delivers a captivating gameplay experience that is both visually engaging and rich in features. The game distinguishes itself with its cartoon-esque art style and endearing characters that players will quickly become fond of. Feature-wise, the game doesn't disappoint either, offering two primary Bonus Rounds along with the triumphant return of the Stackways mechanism. This latest release from Hacksaw Gaming is one that's difficult to overlook. Be sure to try out the game for yourself and check out our exclusive casino offers