Gemix 2 Slot Review – Play'n Go
It has been a couple of days since my last Play'n Go slot review, the last was for the game titled 'Blazin' Frog'. Which has a max win capped at 1,215x and a Re-spin feature with sticky wilds on offer. Today we are learning all about 'Gemix 2', which is available to play now after being exclusive.
This slot has a mystical theme, with 4 different worlds and guardian characters who have special wilds. Symbols are represented by coloured gems in different shapes. The game artwork for each world is well designed and shows off a unique aesthetic.
Gemix 2 has a setup of 7 reels by 7 rows, this includes cluster pays of 5 or more matching symbols. This slot is high variance with a set RTP of 96.26% and a max win capped at 7,500x. You can bet from £0.20 – £100.
Gemix 2 Pay Table & Symbols
There are 9 symbols in total, this includes 4 low-paying symbols. These are represented by blue, cyan, purple, and green-shaped gems. There are also 4 premium symbols, these are represented by orange, pink, red, and gold-shaped gems. In addition to these regular symbols is a wild symbol, which substitutes for all symbols.
Gemix 2 Features
Winning symbols are added to the Crystal Charge meter, Crystal Charge is activated after 25 winning symbols are added during one spin. There are 4 mini-features that can occur, these are;
Nova Blast – One symbol explodes, destroying and transforming adjacent symbols.
Crystal Warp – Crystal Warp – One symbol is chosen, all matching symbols are warped to other symbols.
Light Beam – One symbol shoots out light beams. Symbols hit are transformed to other symbols.
Chain Lightning -Two corner symbols are connected with chain lightning. All hit symbols are transformed to one of the corner symbols.
25 or more symbols activate 1 of 4 Crystal Charge effects, 50 or more activates a Super Charge with all 4 effects simultaneously and an x2 multiplier. Retriggering with an additional 50 symbols increases the multiplier by 2 up to a maximum of 20.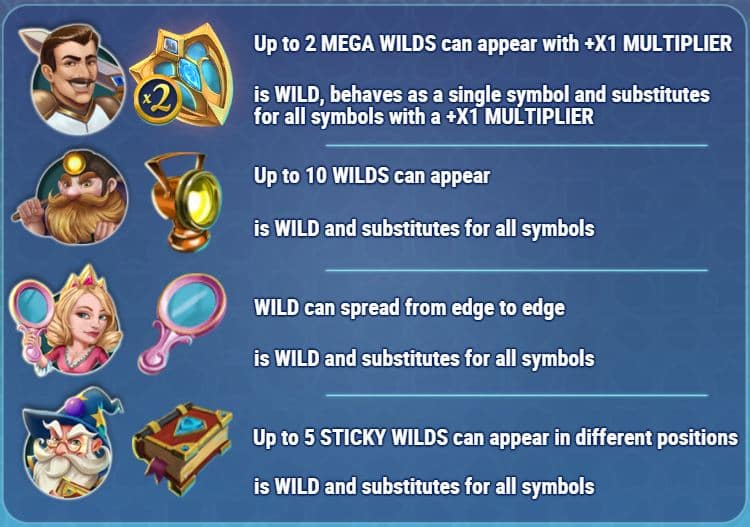 Clear 2 patterns on each world to progress to the next one, clearing is done by winning on indicated grid positions. Wins increase the world bonus. G-Nome is a shady traveling merchant who will appear each time a world is cleared, pick one of the pockets for a chance to win the world bonus.
There are up to 4 different guardians that can appear with a unique wild symbol. World Wilds triggers randomly. The guardian of the world will be the first to appear.
Conclusion
Overall, I think this slot is a very exciting grid release and filled with many different features to keep the gameplay thrilling. With a max win capped at 7,500x and 4 different worlds with special wilds on offer. Be sure to try out the game for yourself and check out our exclusive casino offers.