Money Cart 3 – Relax Gaming
Relax Gaming, a leading provider, has experienced a highly successful year thus far, boasting a series of top-notch launches in Q1 that are sure to make an impact in the market. Among these releases is Book of Power, a product of their collaboration with Casino Grounds, as well as numerous slot sequels featuring the innovative Dream Drop mechanic introduced last year. Additionally, several standalone titles demonstrate the company's creativity and ingenuity. In this review, we will delve into 'Money Cart 3', slated for release on April 12th.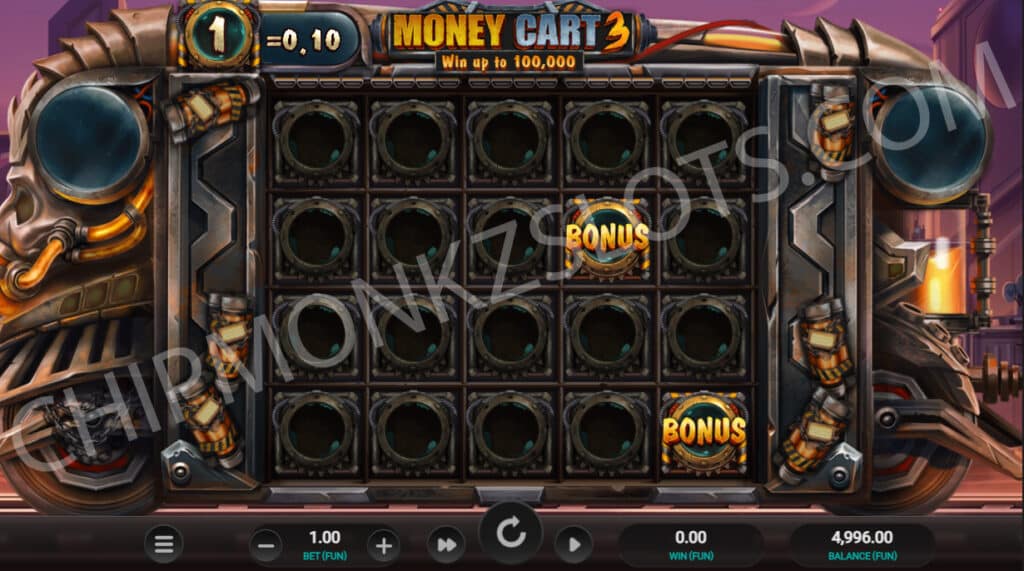 Prepare for an exhilarating adventure with Money Cart 3, the latest captivating slot release from Relax Gaming. Building on the success of Money Cart and Money Cart 2, this installment elevates the Hold & Win re-spins feature from Money Train 3 into a fully-fledged slot game. Featuring engaging characters and innovative mechanics, Money Cart 3 promises an unforgettable gaming experience. Notably, the animations appear to have been updated compared to the initial launch, showcasing Relax Gaming's commitment to continuous improvement. The game's visual aspects have been refined, offering a modern finish while retaining the classic gameplay that players love. Get ready to immerse yourself in the excitement of Money Cart 3, where a thrilling gaming journey awaits.
Money Cart 3 features a 5×4 grid with 28 set pay lines, offering high variance gameplay with a 96% RTP and a maximum win potential of 10,000x your stake. Bets can range from £0.10 to £100 per spin, catering to a wide variety of players.
Money Cart 3 Symbols & Pay Table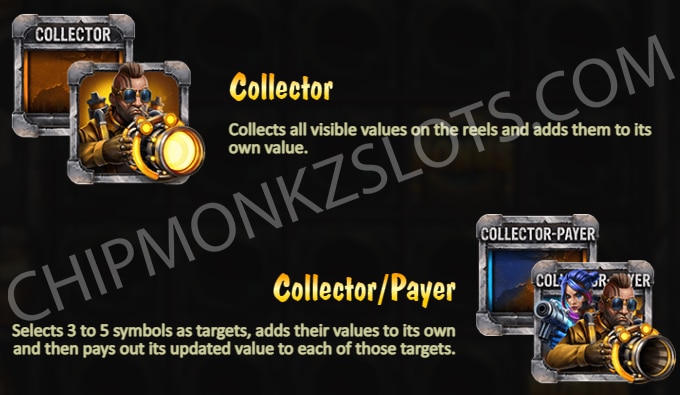 The game abandons traditional pay lines in favour of its re-spins mechanic. Landing 3 or more symbols anywhere on the grid triggers the Re-Spins feature. The Scatter Symbol, or Bonus Symbol, activates the re-spins and transforms into a Coin Symbol with a value between 0.1x and 1x the bet. Alongside the Bonus Symbol, there are special gold symbols that reveal a value and perform an action before the first re-spin. These gold symbols include Collector, Collector/Payer, Sniper, Necromancer, Absorber, Tommy Gun Sniper, Tommy Gun Payer, Persistent Collector, Persistent Collector/Payer, Persistent Necromancer, and Persistent Shapeshifter.
Money Cart 3 Features & Mechanics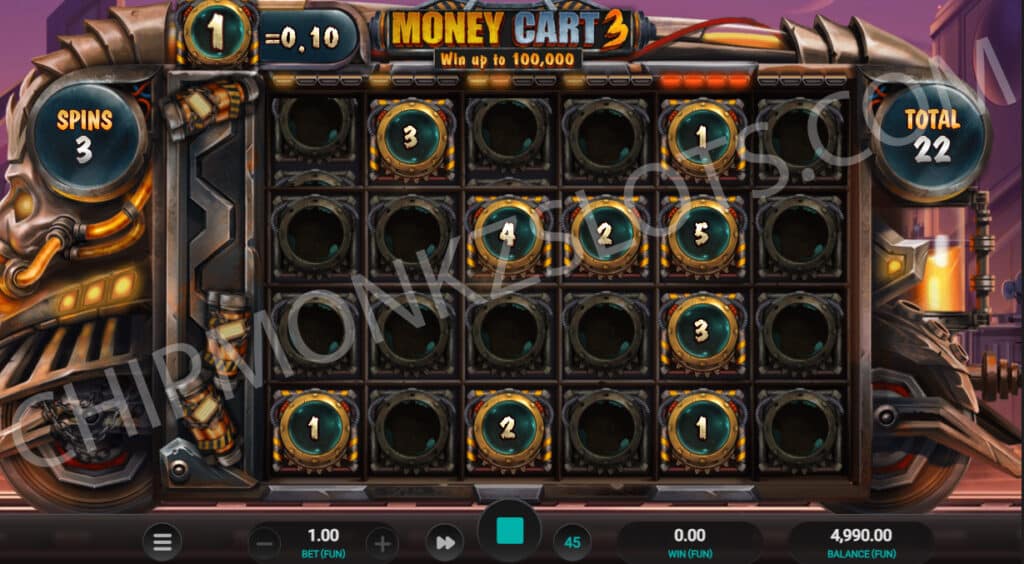 The Re-spin feature is activated when 3 or more symbols appear on the reels. The triggering symbols stick in place, and you are awarded 3 re-spins, with the possibility of landing blanks or other symbols on the empty positions. Each new symbol resets the re-spins count to 3.
In addition to Coin Symbols, you can land special characters with unique abilities during the Re-spin feature:
Collector: Collects all visible values and adds them to its own value.
Collector/Payer: Picks 3 to 5 random symbols, adds their values to its own, and pays the updated value to each target.
Sniper: Doubles the values of 3 to 8 randomly selected symbols, potentially hitting the same symbol multiple times.
Necromancer: Revives 2 to 7 already used special symbols, possibly acting on the same symbol multiple times.
Absorber: Absorbs all Coin Symbols and removes them from the reels.
Tommy Gun Sniper: Attacks one random symbol, doubling its value 2 to 6 times.
Tommy Gun Payer: Reveals a coin value between 0.5x and 10x the bet and targets one random symbol, adding the value 3 to 10 times.
Persistent Collector, Persistent Sniper, Persistent Collector/Payer, Persistent Necromancer, and Persistent Shapeshifter: Each have unique abilities that persist and activate at the end of each spin.
Conclusion
Money Cart 3 offers players an exciting and unique gaming experience, thanks to its innovative re-spins mechanic and engaging special characters. While it shares similarities with Money Train 3's bonus game, it stands on its own as a captivating slot that caters to players in jurisdictions where the Bonus Buy feature is unavailable. With the chance to win up to 10,000x your stake, Money Cart 3 is an attractive option for those seeking high variance gameplay and engaging features. Be sure to try out the game for yourself and check out our exclusive casino offers.