Money Train 4 (Relax Gaming) – Slot Review
Relax Gaming, the renowned provider, is culminating its highly acclaimed Money Train slot series, which originated in 2019 with the debut of 'Money Train'. Over the years, the series has evolved, encompassing iterations like Money Train 2 and 3, along with a Dream Drop variant. Money Train 4 marks the final chapter in this saga, concluding with a resounding impact.The game's backdrop portrays a desert expanse, characterized by towering mountains and undulating sand dunes, devoid of vegetation. The reel border exudes a futuristic aura, boasting a streamlined design and featuring a firearm with an elongated trail of bullets merging into a skull. Adjacent to the reel set, a substantial structure stands tall, resembling an armored vehicle. As the Free Spins feature is activated, the game's ambiance transitions into darkness, juxtaposed by vibrant reel lights and a landscape marred by destruction. While the visual elements are meticulously crafted, they might not evoke the awe one might anticipate for a grand finale.
Money Train 4 features
a grid layout of 6 reels by 6 rows, with Scatter Pays triggered by clusters of 8+ or 10+ symbols, depending on the symbol type. This slot boasts high variance gameplay with an established RTP of 96.10%, and the maximum win potential is capped at 150,000x your bet
. Betting options range from
£0.10 to £6.
Money Train 4 Symbols & Pay Table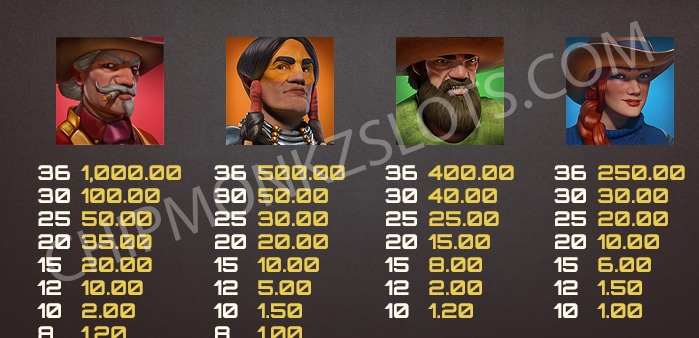 The game includes a total of 9 symbols, encompassing 4 low paying symbols represented by Diamonds, Clubs, Hearts, and Spades. Additionally, there are 4 premium symbols characterized by distinct characters with backgrounds of Blue, Green, Orange, and Red. Furthermore, a Scatter Symbol is present. The Red Background premium symbol holds the highest payout, offering rewards ranging from 1.2x to 1,000x for clusters of 8 to 36 or more symbols.
Money Train 4 Features & Mechanics
The Respin Feature activates at the conclusion of any spin. The symbol with the highest presence on the reels becomes sticky, granting a Re-Spin. During these respins, additional symbols of the same type can land, including Multiplier Symbols, which do not stick but do grant extra Re-Spins. Multiplier values accumulate and apply to the final win, with the respins concluding when no new symbols land.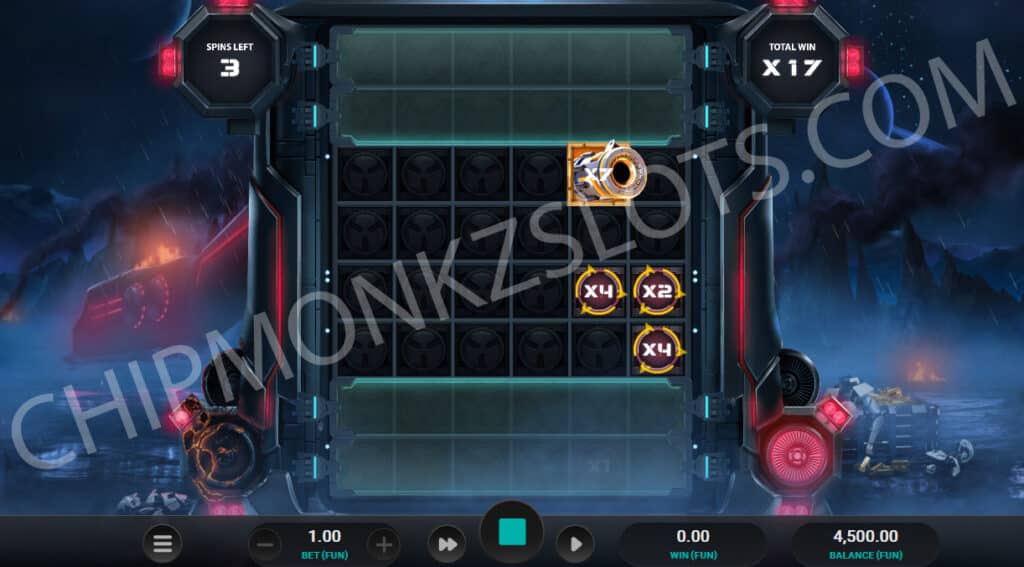 Money Cart Bonus Round is triggered by landing 3 or more bonus symbols in a base game spin. A Persistent Symbol can substitute for a scatter during the initial trigger. The triggered symbols reveal values, and 3 spins are awarded. If a Persistent Symbol is among them, it takes effect before the first spin. Filling a row with symbols unlocks another row, and symbols in the newly unlocked row perform their actions. The bonus can be purchased for 100x or 500x, with a guaranteed persistent symbol. Additional symbols that can appear include:
Bonus Symbol: Reveals a value between 1x and 10x.
Collector: Accumulates visible values on the reels, excluding its own.
Persistent Collector: Collects visible values on the reels and adds them to its own value after each spin.
Adjacent Collector: Collects values from the 8 adjacent positions and adds them to its value.
Persistent Adjacent Collector: Collects adjacent values after each spin.
Payer: Adds a value as a multiplier of the bet to all visible symbols except itself.
Persistent Payer: Adds a multiplier value to symbols after each spin.
Adjacent Payer: Adds its value to all adjacent symbols.
Persistent Adjacent Payer: Adds its value to adjacent symbols after each spin.
Sniper: Doubles the values of 3 to 8 other bonus symbols, with potential multiple actions on the same symbol.
Persistent Sniper: Doubles values on other bonus symbols after each spin.
Collector Payer: Selects 3 to 5 symbols, adds their values to its own, and then pays its updated value to those symbols.
Persistent Collector Payer: Performs the same action with selected symbols after each spin.
Arms Dealer: Converts 1 to 4 Bonus Symbols into a feature symbol.
Persistent Arms Dealer: Converts 1 Bonus Symbol into a feature symbol after each spin.
Necromancer: Revives 2 to 7 used non-persistent feature symbols.
Persistent Necromancer: Revives 1 to 7 used non-persistent symbols after each spin.
Persistent Shapeshifter: Performs its action after each spin.
Unlocker: Unlocks a locked row.
Reset Plus: Increases the starting spin count by one.
Upgrader: Upgrades 1 to 3 feature symbols into their persistent versions.
Conclusion
In its entirety, Money Train 4 preserves the beloved aspects of classic gameplay. With an expanded array of 20 symbols available in the Free Spins feature and the inclusion of 2 Bonus Buy options, the game provides a comprehensive experience. Coupled with its remarkable maximum win of 150,000x, it's safe to assume that many are eagerly anticipating the release of this game. Be sure to try out the game for yourself and check out our exclusive casino offers