Monopoly Megaways Slot Review – Big Time Gaming
It has been a crazy for 2019, especially for provider Big Time Gaming. The studio has had a lot of new releases and some giveaways to give back to the casino community. Big Time Gaming likes to communicate with the community on their social media and is the only studio to host big competitions. Their main giveaway is the 'Tesla Competition', in which the main winner will be drawn soon.
There was also the recent release of the game 'Lil Devil', which Chipmonkz Slots showed to the world first on stream. Players also got early access to the game thanks to the stream. Since the release of Lil' Devil, some people have been curious if there will be one last release before 2020. Now we do have the answer to that question. Releasing soon is a new game titled 'Monopoly Megaways'.

There have been a lot of Monopoly releases already, the most popular being 'Monopoly Live' by Evolution Gaming. But now it is Big Time Gaming turn at the theme. Visually the game has a lot of the iconic artwork and colours from the board game. The background is green with skyscrapers outlined lightly. Then the iconic board squares are at the bottom of the reel set where we see Mr. Monopoly ready to walk along with the street squares.
The reel set has a silver border, in the top left we see green houses and in the top right utilities and train station outlines. Overall the visuals are perfectly done and represent the original game very well. I personally love the visuals; they are very eye-catching and have good detail.
Monopoly Megaways has a setup of 6 reels by 2-7 rows, this includes up to 117,649 ways to win. This game is high variance due to the set RTP of 96.5% and an unconfirmed max win. However, the max win is easily over 10,000x. You can bet from £0.20 – £20.
Monopoly Megaways Slot Review Symbols & Paytable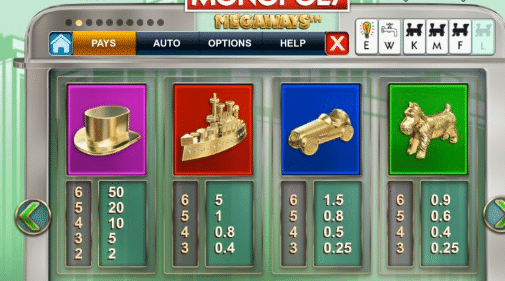 This game has 11 symbols in total, this includes 6 low paying symbols. These are represented by 9,10, J, Q, K and A. There are also 4 premium symbols, these are represented by dogs, cars, ships and top hats. There is also a rainbow monopoly wild. The most valuable symbol is the top hat with the purple background, this symbol pays 50x for 6 across all reels. Symbols are cascading, meaning all symbols part of wins will disappear and be replaced with new symbols. This is a common feature in Megaways focused games.
Monopoly Megaways Slot Review Features
For features, there is a lot to talk about. For starters let's talk about the monopoly board at the bottom of the reel set. Mr. Monopoly will move around this board every time you win. If you land on a property while on your second reaction win during one spin, a green house is added to the property. Every extra reaction will award an extra house. The first time you land on a train station or utility you will own it, it will appear at the top right of the reel set. Your progress on the board is stuck with the stake you are on.
Every time you land on go the next spin will be at max Megaways. Landing on the community chest will provide a card to travel to a random property. Up to 4 houses could also be added. Landing on a chance will award either one spin at max Megaways or trigger a random property to go to with the chance of 4 green houses to be added.
Free Spins
Central to this game is the free spins feature. This is activated when a fifth green house is added to a property. This will award 8 free spins, every additional feature trigger beyond the first awards an extra 3 spins. Every additional house after 5 will award an extra spin. This bonus feature can also be triggered by a chance card. Every owned train station awards an extra spin too. The win multiplier during spins will increase by one for each green house on every property that is landed on during spins. The multiplier will start with 1x extra for each utility you own. After spins finish you will lose ownership for all train stations and utilities.
However, all green houses on all unvisited properties will remain. During spins, you are awarded +1 spin every time you land on a train station you own. You are also awarded 1x or x2 for each utility you own. X1 if you own one and x2 if you own both. The chance card will either send you to a new property or a spin at max Megaways or 5 extra spins.
Conclusion
Overall, I do think this game has similarities to Holy Diver. However, there are a lot of differences. There are many features to benefit from and the gameplay is very fun. I have really enjoyed playing this game for myself. There is a grind needed to have a good bonus feature, but the base game still pays well. Be sure to try the game for yourself on release and check out our exclusive casino offers.