Napoleon Vs Rabbits Slot Review – Blue Guru Games
With only days now until Christmas Day, studios are saying farewell until after the New Year, when Q1 will begin. There is a lot in store for the beginning of 2023; some roadmaps have already been created and shown off. Understated studio Blue Guru Games released its Christmas game of the year titled 'A Winter's Tale', which has a max win capped at 1,556x and two fun bonus features. Today we have the studio's last release for the year. The game in question is titled 'Napoleon Vs Rabbits', which is available to play now!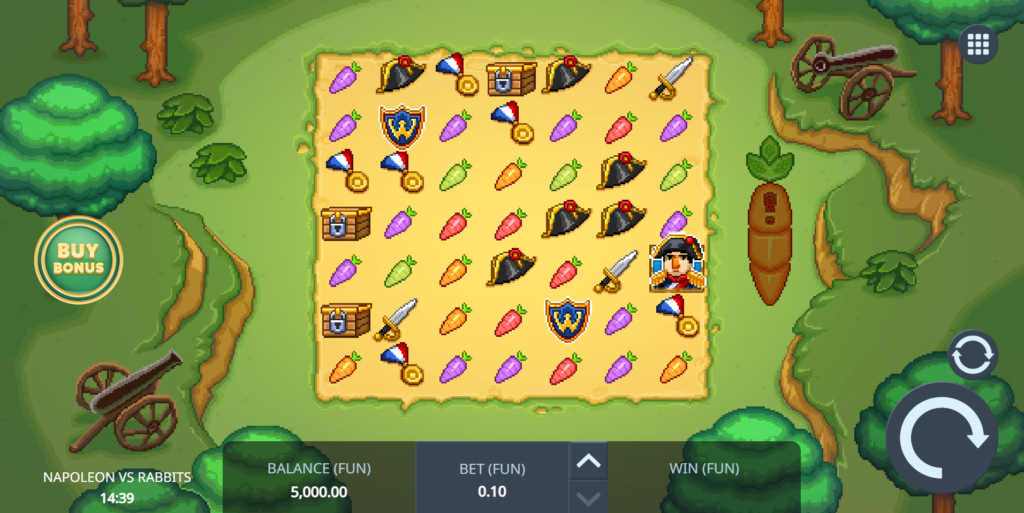 This slot uses an intriguing but fun theme, taking us back to 1807 when Napoleon Bonaparte was on top of the world. Celebrating a recent victory with a rabbit hunt, instead, the bunnies decided to run towards Napoleon instead of running for freedom. The rabbits were smart and split into two phalanxes to chase down Napoleon, who managed to escape. The Chief Of Staff realised that his servants had purchased thousands of domesticated bunnies instead of catching wild hares.
Visually this game reminds me of a fun video game, with pixilated symbol designs and a simplistic 2D background. This background looks to be an open landscape, with trees and small bushes surrounding the reel set. There are two cannons but no soldiers attending them. It is refreshing to see unique visual aspects; this game will definitely stand out in the casino market. The Bunny symbols jump across the reel set with a trail behind them. The Napoleon premium seems to keep losing his hat, which appears on the bunny's heads. When the Free Spins feature is triggered, an adorable animation appears. The white bunnies are running together to chase down Napoleon, who has a white flag in his hand. The game background is transformed from a bright green landscape to what looks like the aftermath of a big fight. Cannons are broken down, bushes have died, and the grass is now dull. There are many fun little extras you will find visually within this slot.
Napoleon Vs Rabbits has a setup of 7 reels by 7 rows; this includes cluster pays of 5 or more matching symbols. This slot is high variance with a set RTP of 96.45% and a max win capped at 3,894x. You can bet from £0.10 to £100.
Napoleon Vs Rabbits Symbols & Pay Table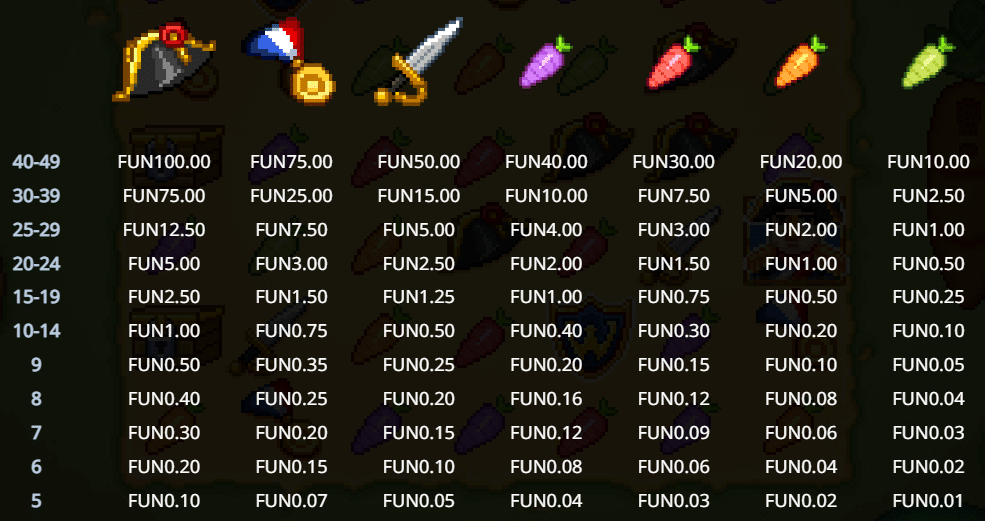 There are 11 symbols in total; this includes 4 low-paying symbols. These are represented by Green, Orange, Red and Purple Carrots. There are also 4 premium symbols; these are represented by Swords, Medals and a Napoleon's Hat. In addition to these regular symbols is a Shield Wild, Napoleon Wild Symbol, Mystery Rabbit Box Symbol and Mystery Rabbit Symbol. The highest paying symbol is the Napoleon's Hat premium, which pays 1x to 1,000x for clusters of 5 to 40. Shield Wilds & Napoleon Wilds substitute for all symbols except the Mystery Rabbit Box Symbol. The Mystery Rabbit Symbol transforms into the same random symbol.
Napoleon Vs Rabbits Features & Mechanics
There is always one Napoleon Wild Symbol on the reel set; it is not removed with wins and does not cascade. The Mystery Rabbit Box does not cascade; a winning cluster adjacent will open this box. Releasing extra Mystery Symbols at the end of cascades.
Winning Clusters that include a Napoleon Wild Symbol spawn a Rabbit on the side of the reels. When cascades finish, all of the spawned Rabbits will swarm to the Napoleon Wild converting symbols to Mystery Symbols on their path. Rabbit paths that overlap with a Mystery Rabbit Box will unlock the box.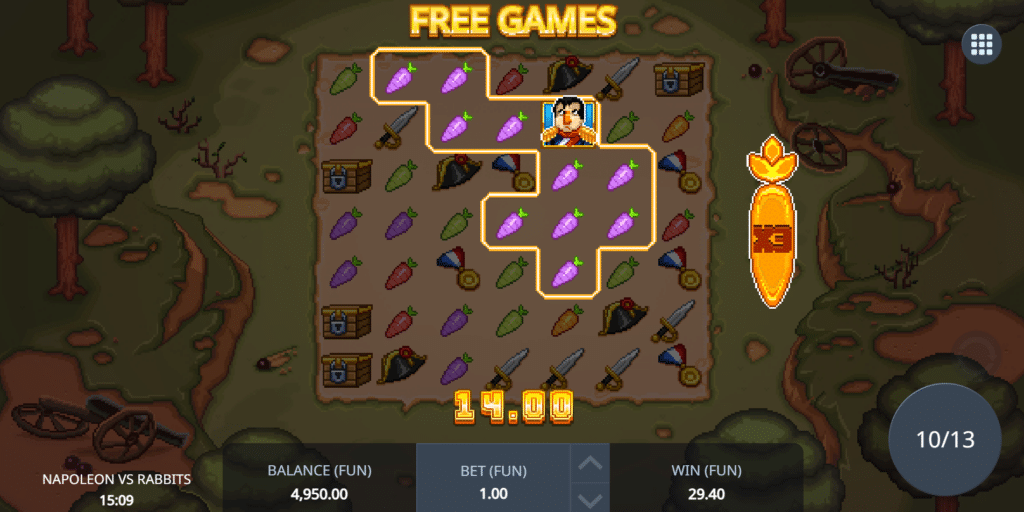 If 3 Mystery Rabbit Boxes are unlocked during a base game spin, the Free Games Feature is triggered. Awarding 7 Free Games for every additional box that unlocks on the initial trigger 3 additional Free Games are awarded, and the multiplier is increased by 1x for each box. During spins, every unlocked box awards 3 extra spins and increases the multiplier by 1x. This feature can be purchased for 50x your chosen stake.
Conclusion
Overall, this slot is a memorable release by Blue Guru Games and not your typical-looking slot. With a 2D background and pixilated artwork for all symbols. This, of course, is not the first game to ever use pixilated visuals, but it is a rare find within the industry. There are heartwarming animations with the bunnies when on the reel set and when the Free Spins feature begins & ends. The sound effects and the soundtrack reminded me of an old-school video game rather than a slot. The game background transforms when the Free Spins feature is triggered. Plus, some symbols have unique animations when part of a win. I am excited to see what Blue Guru Games brings to the table in 2023 and am a big fan of this release. Now onto the features and mechanics;
For mechanics we have the special Napoleon Wild, which at least 1 will appear on each spin. Winning combinations that include this special symbol will spawn a rabbit on the side of the reel set. This rabbit will run to the Wild, creating a Mystery Symbols path behind it. Mystery Rabbit Boxes are unlocked when a win occurs beside it, multiple rabbits will appear as a cluster and transform into Mystery Symbols. The main attraction is the Free Spins feature, with an increasing Multiplier and every unlocked box awards 3 extra spins. Be sure to try this game out for yourself and check out our exclusive casino offers.