Pirots 2 (ELK Studios) – Slot Review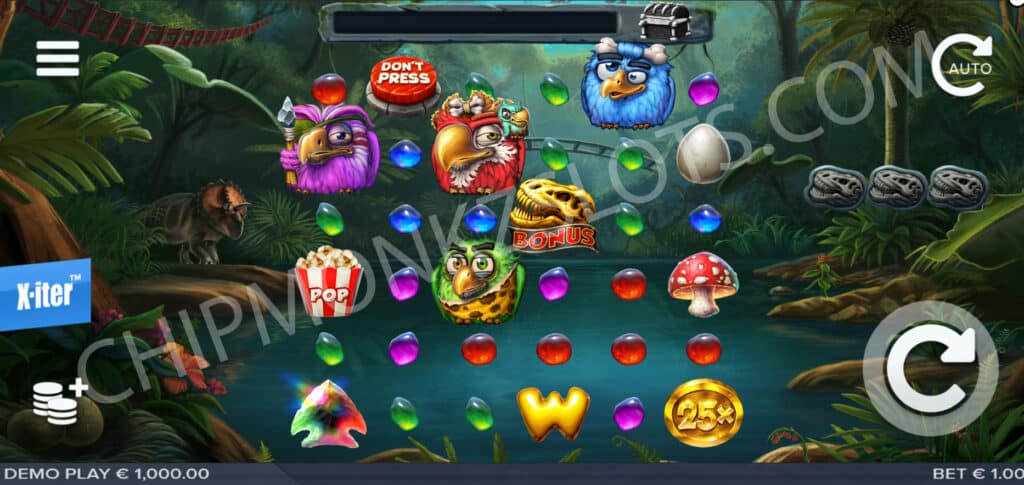 ELK Studios revitalizes our screens, heralding the return of our beloved avian adventurers in the sequel, Pirots 2. A mere seven months following the release of the original game in March 2023, the spirited characters embark on a fresh journey. This time, Pirots 2 transports players to an epoch where dinosaurs still claimed dominion over the earth, situating our protagonists within a lush jungle. The game's backdrop splendidly unveils the majestic land, complete with animated dinosaurs leisurely wandering through the scene. The characters themselves have undergone a subtle transformation, now sporting new attire and accessories in sync with their novel adventure. The visual aspects are impeccably crafted, and I find myself enchanted by the innovative theme choice, thrilled to witness the triumphant return of the four bird characters into the gaming arena.
Pirots 2 offers an enthralling gaming experience, featuring a unique configuration of 6-8 reels by 6-8 rows, incorporating trail pay lines. This high-variance slot comes with a set RTP of 94% and a max win potential of 10,000x. Betting ranges are set from £0.20 to £100.
Pirots 2 Symbols & Pay Table

The game hosts a total of 17 symbols, including 4 lower-paying symbols, which are depicted by Blue, Green, Purple, and Red Amber orbs. Additionally, there are 4 premium symbols, visually represented by Blue, Green, Purple, and Red Birds, which actively move and collect amber symbols and feature symbols of their corresponding color. Alongside these conventional symbols, the game includes a Regular & Special Upgrade Symbol, a Coin Symbol, a Wild Symbol, a Red Button Symbol, an Egg Symbol, a Popcorn Symbol, a Mushroom Symbol, and a Bonus Scatter. The Red Amber Orb reigns as the highest paying symbol, with payouts ranging from 0.10x to 50x per symbol collected in a trail. Wilds act as substitutes for any Amber Symbols at their respective payout level and can be upgraded to a maximum payout level of 7.
Pirots 2 Features & Mechanics

Special Symbols
Upgrade Symbol: Elevates the payout level of one of the amber symbols by 1-3 steps, up to the maximum payout level of 7.
Upgrade All Symbol: Enhances all 4 Amber symbols simultaneously by 1-3 steps, maxing out at payout level 7.
Coin Symbol: The coin symbol yields its displayed value multiplied by the current active bet level. The Max Win Coin instantly delivers the remaining amount required to attain the maximum win.
Red Button Symbol: Once collected, triggers a meteor strike that detonates symbols and expands the game grid, up to a robust 8×8.
Egg Symbol: When collected by a bird, an Egg Symbol hatches a dinosaur at the round's end, scaring the birds from the game grid, and forcing them to redrop and land in new locations.
Popcorn Symbol: Upon being collected by birds, it fills empty grid spaces with popcorn, enabling them to cross the voids once each to reach additional symbol clusters.
Mushroom Symbol: Upon collection, transforms a cluster of adjacent Amber symbols into the same color as the bird that collected the symbol. It may also convert a random number of Amber symbols into feature symbols.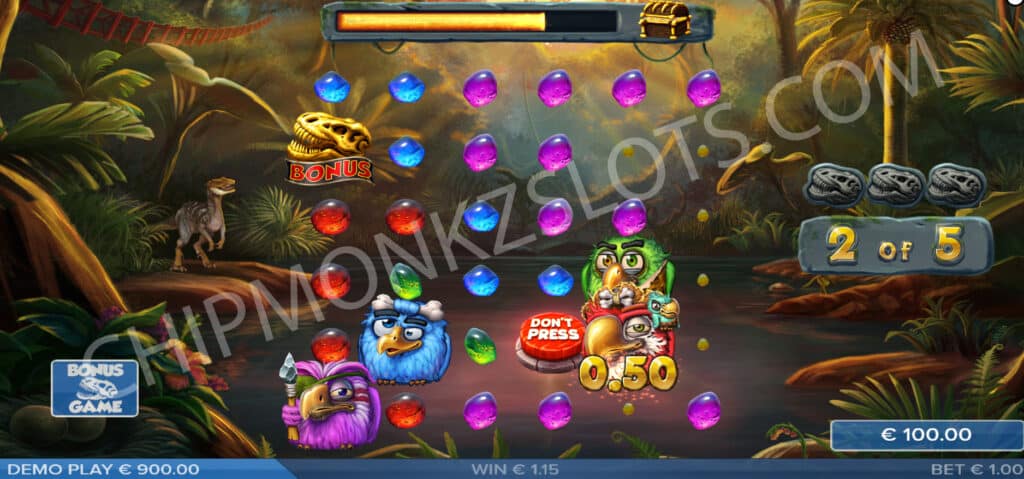 Bonus Game Overview
Triggering the Free Drop feature involves collecting 3 bonus symbols during a base game spin, awarding 5 Free Drops. Throughout these spins, the Grid Size, progress on the symbol collection meter, collection of scatters, and the payout level remain persistent during the Bonus Game. This feature can also be directly purchased for either 100x or 500x your chosen stake size for the regular or Super Bonus, respectively.
Conclusion
In summary, Pirots 2 emerges as a splendid sequel, presenting a delightful slot-playing experience. It harmoniously melds both familiar and novel visual elements, particularly within the iconic characters. Now, with the incorporation of new reel modifier symbols and the archetypal Bonus Feature, now enriched with additional excitement, this slot warrants undivided attention. Pirots 2 is unquestionably a not-to-be-missed adventure in the gaming realm!
Be sure to try out the game for yourself and check out our exclusive casino offers