PopRoyale (AvatarUX) – Slot Review


This slot is a Stake exclusive currently!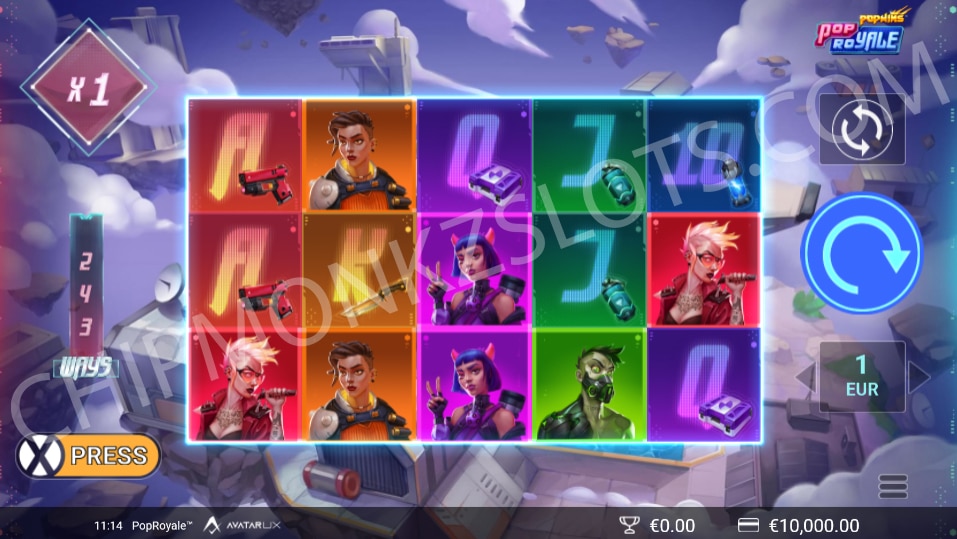 We accompany provider AvatarUX to a ferocious skirmish in the skies, amidst utter mayhem and the devastating aftermath that ensues. The game backdrop portrays what appear to be smoky clouds, advanced architectural structures, and debris tumbling from the heavens. The symbols come to life as various color-coded characters, each set against a lively background that harmonizes with their attire and visual demeanor. AvatarUX, as always, impeccably executes these visual elements, ensuring a seamless and immersive gaming encounter.
PopRoyale is set up on a grid of 5 reels by 3 to 6 rows, encompassing up to 59,045 possible ways to win. This high-variance slot game boasts an RTP of 98% and caps the maximum win at 10,000 times your bet. Betting ranges from a modest £0.20 to a more ambitious £40.
PopRoyale Symbols & Pay Table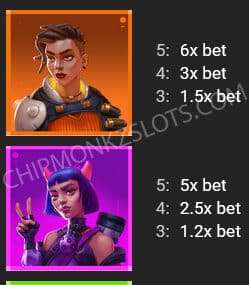 The game unfolds with 14 distinctive symbols. The lower tier includes numbers and letters: 9, 10, J, Q, K, and A. The middle tier features characters donned in Dark Blue, Cyan, Light Green, and Green outfits against vibrant corresponding backgrounds. The top tier or premium symbols showcase characters in Purple, Orange, Red, and Gold attire with matching dynamic backgrounds. The Gold Premium symbol stands as the highest-paying, offering 15x the bet for five in a row.
Pop Royale Features & Mechanics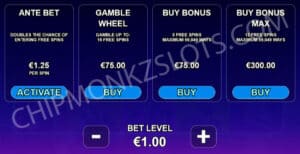 PopWins
With every win, the victorious symbols 'Pop' and are substituted by two new symbols, expanding the reel height. This continues as long as wins accrue. In the base game, reels can grow up to 6 symbols tall, ensuring more chances for winning combinations even when a reel has achieved maximum height.
Reel Expansions
5×3 expands to 5×6 in the Base Game with PopWins™.
5×6 further expands to 5×9 in Free Spins with PopWins™.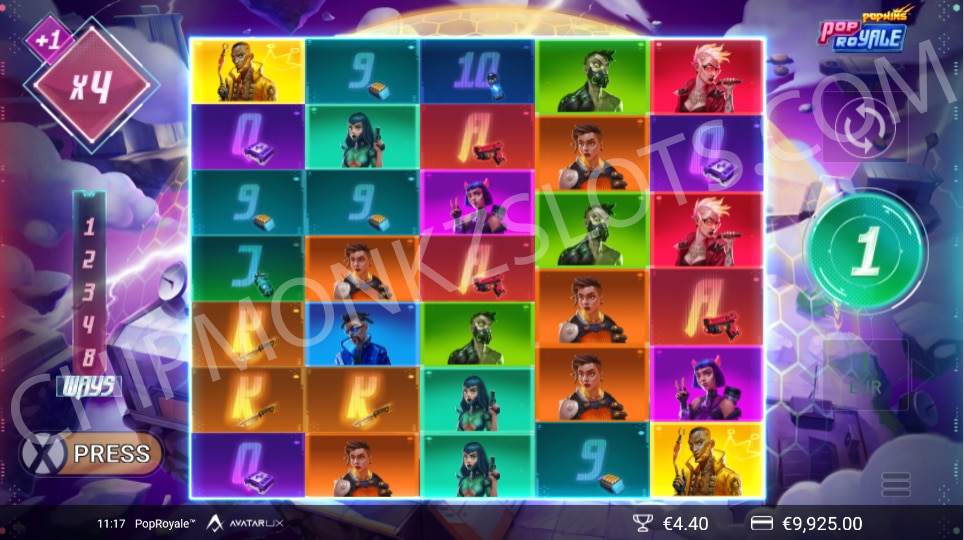 Free Spins
Attain maximum reel expansion with PopWins™, and unlock the bonus game, which also offers a gamble feature. In Free Spins, the grid can broaden to 5×9. This lucrative feature is available for purchase at 75x for 5 Free Spins or 300x for a maximum of 12 Free Spins, offering up to 69,049 ways to win.
Gamble Wheel
Before delving into free spins, augment your free spin amount with the Gamble Wheel. Failure leads back to the base game, forfeiting the free spins. The initial offering of 5 free spins can be gambled to increase to 8 or even 12 free spins. The Gamble Wheel holds a special golden field, offering an opportunity to clinch up to 12 free spins on the first gamble and up to 16 on the second.
Bonus Buy Options
Ante Bet (25% Bet Increase): Doubles the probability of triggering the Free Spins feature.
Gamble Wheel (75x): Gamble up to 16 Free Spins.
Buy Bonus (75x): Secure 5 Free Spins.
Buy Bonus Max (300x): Obtain 12 Free Spins and Maximum 59,049 Ways.
Conclusion
In summary, POPRoyale delivers thrilling and enjoyable gameplay, made even more engaging with the integration of the beloved POPwins mechanic and meticulous visual details. The game is rich in features including reel expansions, a Gamble Wheel, and a Free Spins feature complemented by an escalating multiplier, collectively ensuring a comprehensive gaming experience. Truly, POPRoyale leaves no stone unturned in providing all-around entertainment! Be sure to try out the game for yourself and check out our exclusive casino offers.