Qatar 2022 World Cup Overview (Results) – 25th November
Portugal Vs Ghana 3-2
When I looked at predictions yesterday about this match, it was all in Portugal's favour to win. Portugal did not disappoint with a 3-goal win, but Ghana did not make it easy with 2 goals scored. Let's get into the match statistics, with 62% ball possession for Portugal and 38% for Ghana. There were a total of 20 shots, 11 by Portugal with 5 on target and 9 by Ghana with 3 on target. There were a total of 33 fouls during this match, 14 by Portugal and 19 by Ghana. Which resulted in 6 yellow cards, 2 for Portugal players and 4 for Ghana players. Let's look into these bookings;
Ghana Midfielder Mohammed Kudus was the first to be booked in the 45th minute. For catching Cancelo with a high boot battle for possession. Ghana Striker André Ayew was the second in the 49th minute. Otavio turns away from Ayew and is brought down in a challenge. Ghana Defender Alidu Seidu was booked for a late charge on Joao Felix. The pair had a confrontation on the pitch, and the referee had to get involved to calm things down. Ghana Striker Iñaki Williams lashes out at Pereira in the 91st minute. Preventing him from getting to his feet. Portugal Defender Pereira is also booked for this incident. Minutes later, Portugal Striker Bruno Fernandes is booked for pulling back Bukari.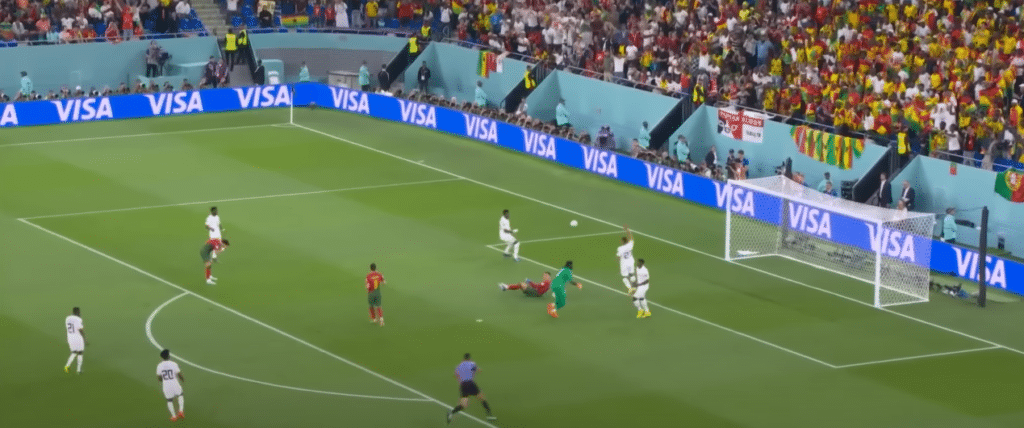 The first goal was scored by Portugal Striker Cristiano Ronaldo in the 65th minute, with a penalty shot. The Striker has scored 13 goals in his last 14 matches. He is also the first player to score in 5 different FIFA World Cups. Ghana makes a comeback in the 73rd minute, with Striker André Ayew scoring and making it 1-1. Minutes later, Portugal takes the lead again, and Striker João Félix manages to score in the 78th minute. Portugal is on a roll; 2 minutes later, Striker Rafael Leão scores and gives the team a big advantage. Ghana managed to score in the 89th minute; Striker Osman Bukari made the score 3-2. 9 minutes of extra time were added, but no more goals occurred, with the end score of 3-2 for Portugal. This was definitely a heated match between the teams, with the referee having to get involved between players and many yellow cards handed out.
Brazil Vs Serbia 2-0
The first half of this match lacked excitement; the second half made up for this. With so much excitement in the crowds, thanks to some incredible shots by Brazil and the best trick shot goal we have seen so far in this 2022 FIFA World Cup. Brazil entered this matchup undefeated in their last 15 World Cup matches, coming out still undefeated and keeping their incredible win rate. Most statistics were pretty even between the teams, except for shots and shots on target. With 59% ball possession for Brazil and 41% for Serbia. A total of 28 shots, 23 by Brazil with 9 on target and 5 by Serbia with 0 on target. 19 fouls occurred during this match, 7 by Portugal and 12 by Serbia. 3 yellow cards were handed out only to Serbia players.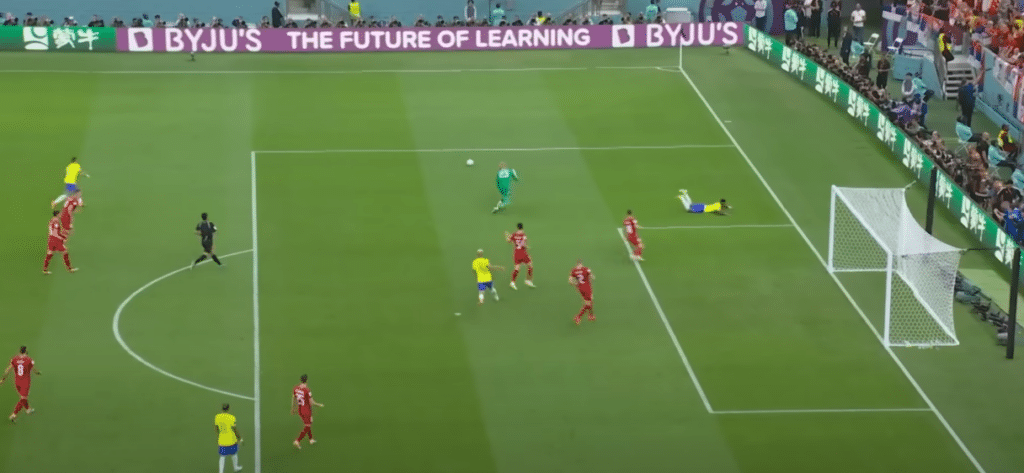 It only takes 7 minutes until the first booked player, Serbia Defender Strahinja Pavlović, for a foul on Neymar. Nothing really happened in the first half; 4 shots by Brazil and 1 yellow card are the only excitement. Now onto the second half, 49 minutes in Serbia, Midfielder Nemanja Gudelj tackles Neymar, and the referee instantly books him. The last yellow card was for Serbia Midfielder Saša Lukić for dissent.
The first goal is scored by Brazil Striker Richarlison in the 62nd minute, granting Brazil a lead in this match. In under 10 minutes, Brazil scores a second goal, thanks to Striker Richarlison again! With an incredible bicycle kick volley into the net, what a second goal by this Striker. Brazil made this match very entertaining, with 2 impressive goals and keeping their win streak yet again.
Wales Vs Iran 0-2
Wales is on a disappointing loss streak, and today's match is, unfortunately, adding to this streak. With a 0-2 loss against Iran and a red card for their Goal Keeper Wayne Hennessey. So much went wrong for Wales during this match. Lets get into the statistics. Ball possession was in Wales's favour, with 62% and 38% for Iran. A total of 31 shots, 10 by Wales with 3 on target and 21 by Iran with 6 on target. 19 fouls occurred during this match, 9 for Wales and 10 for Iran. With 3 yellow cards and 1 red card.

In the first half, Iran did manage to score, but unfortunately, after a VAR review, the goal was ruled out. The first yellow card was for Wales Defender Joe Rodon for a slide into Taremi. In the 85th minute, a yellow card is handed to Wales Goal Keeper Hennessey. However, after a VAR review, the original decision is overturned, and a red card is shown by the referee. He is the third goalkeeper in the FIFA World Cup's history to receive a red card. All from bundling into Taremi outside the box. Iran Midfielder Alireza Jahanbakhsh is booked in the 90th minute for a high boot and apologises for this. Both goals were scored in extra time by Iran, the first by Defender Rouzbeh Cheshmi and the second by Defender Ramin Rezaeian. Rouzbeh Cheshmi's goal was the first goal from outside the box at the 2022 FIFA World Cup.
Qatar Vs Senegal 1-3
Qatar is already on a losing streak during this FIFA World Cup; as the host nation, it is such a shame. With 2 losses in the group stage and Senegal's first win so far. Looking at the statistics alone, it does look close between the two teams. With 45% ball possession for Qatar and 55% for Senegal. 23 shots during this match, 10 by Qatar with 3 on target and 13 by Senegal and 5 shots on target. 19 fouls occurred during this match, 7 by Qatar and 12 by Senegal. Resulting in 6 yellow cards being handed out to players.
The first yellow card was 20 minutes in, for Qatar Defender Ismail Mohamad, for a poor challenge sliding into Nampalys. 10 minutes later, Senegal Striker is booked for a late challenge, clipping Ahmed's heels. In extra time for the first half, Qatar Defender Homam Ahmed steps across Sabaly, attempting to stop him from going upfield. During the second half of this match, Senegal Defender Ismail Jakobs attempts to block Mohammad's run and, unfortunately catching the player with an elbow to the face. In the 87th minute, Senegal Midfielder Pathé Ciss is booked for clipping Mohammad. The last yellow card is for Qatar Midfielder Assim Madibo in extra time. For taking out Dieng in a slide, taking out the player in the process.

The first goal is scored by Senegal Striker Boulaye Dia in the 41st minute. A second goal by Senegal minutes into the second half was scored by Striker Famara Diedhiou. Qatar managed to make a small comeback, with their first goal scored in the 78th minute. By Striker Mohammed Muntari, this is the team's first-ever goal at a World Cup match. It doesn't take Senegal long to improve its lead. A goal in the 84th minute by Striker Bamba Dieng brought the score to 3-1.
Netherlands Vs Ecuador TBD
Looking at the predictions for this match, it is safe to say it will be an interesting one to watch, with a high probability of this ending in a draw. This is both teams' third encounter, but will it end in a disappointing draw? This match will be held at Khalifa International Stadium, and kick-off is set for 14:00 UK time.
England Vs USA TBD
It is the third time these 2 teams are head to head in a FIFA World Cup match. England has a decent record, winning 8 of 11 games against the USA. Looking at predictions, England is favoured to take the win. This match will be held at Al Bayt Stadium, and kick-off is set for 19:00 UK time.
World Cup 2022 Offers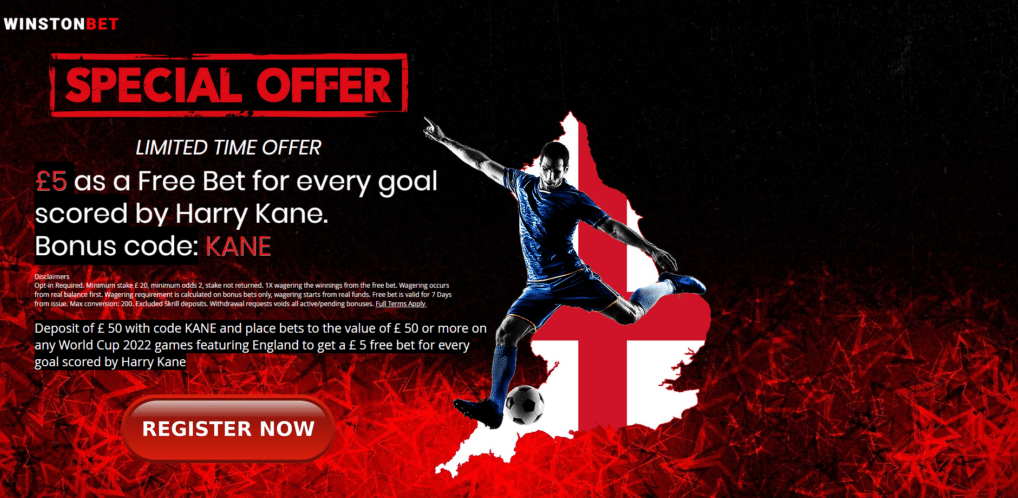 If you are wanting to place any bets during this World Cup I recommend checking out Winston Bet. This casino has exclusive offers for the 2022 World Cup, including special promotional offers and codes. Including £50 as a free bet if England gets knocked out on penalties, using code 'Penalty'. Plus a £5 free bet for every goal scored by Harry Kane, using code 'KANE'. For more information about these offers click the link and be sure to check out out other exclusive casino offers.