Reactoonz 2 Slot Review – Play'n Go
Well, Play'n Go has done it all this year, many game sequels and a long list of successful slot releases. With 3-4 months to go until 2020 is over and onwards to 2021. Even through this worldwide pandemic, we have had consistency still from the studio. I recently reviewed 'Octopus Treasure', which is filled with many exciting features. Next from the provider is a very exciting game sequel. The next release is titled 'Reactoonz 2', set to release October 1st across all sites.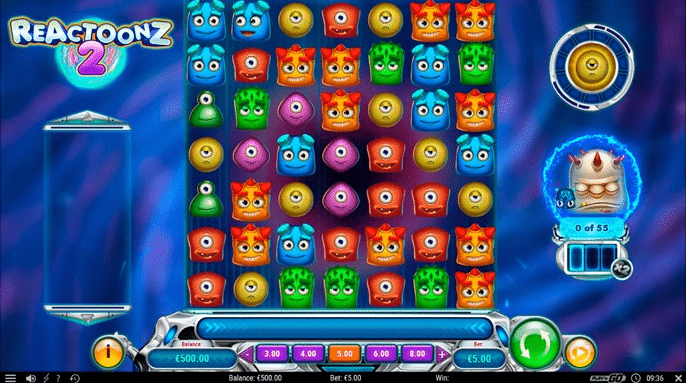 The original 'Reactoonz' was released 24th November 2017 and a game-changer for grid mechanics and cluster pays. Nearly 3 years old and still one of the most played games in the casino industry and still one of the studios best. In this exciting game sequel, we see new polished visuals for the new modern times. With a colourful background like the orb wilds known in the game. Gargatoon is seen on the right side of the grid and meter above Garga. This sequel sticks with the original theme and art design. With the same symbols but with a new modern polished design. Overall I love this new look for Reactoonz 2 and excited to learn about the features.
Reactoonz 2 has a setup of 7 reels by 7 rows, this includes cluster pays of 5 matching symbols or more. This game is medium variance with a set RTP of 96.20% and max win capped at 3,000x. You can bet from £0.20 – £100.
Reactoonz 2 Pay Table & Symbols
There are 10 symbols in total, this includes 4 low paying symbols. These are represented by yellow, green, orange and purple one eyed shaped aliens. There are also 4 premium symbols, these are represented by blue, orange, green and pink two-eyed shaped aliens. In additon to these regular symbols is a wild energoon and wild gargatoon. 5 or more matching symbols form a cluster when removed these symbols fill up the meter. The cascades continue until no more wins occur.
Reactoonz 2 Features
A random on eyed symbol fluctuates on each spin if these form a winning cluster a single electric wild is created and places on one of the removed symbols spots. The Fluctometer collects all removed fluctuating symbols and creates 1, 2 or 3 electric wilds randomly when full after all wins are played out.
All non-wild one-eyed and two eyes symbols are removed by electric wilds through wins or wild pair explosions which are counted as charged to the Quantumeter. The Quantumeter has 4 charge levels and holds up to 135 charges. Level 1 = 55 Charges, Level 2 = 85 Charges, Level 3 = 110 Charges and Level 4 = 135 Charges. Level 3 is the fully charged state or the Quantumeter and level 4 is the overcharged state. The Quantumeter continues to charge after releasing an energoon but releasing Gargatoon disables it.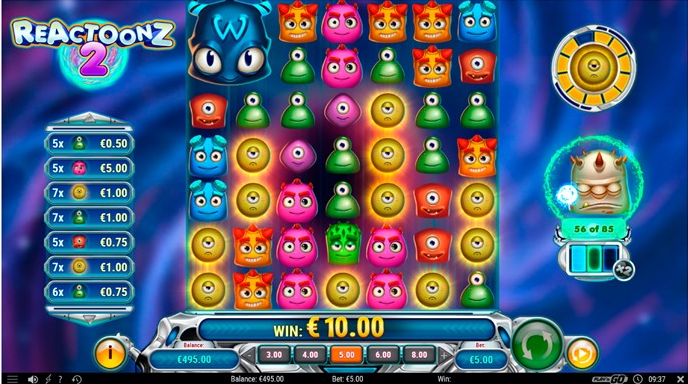 If the Quantumeter does not reach level 3, a energoon wild is unleashed to the grid. Level 2 unleashes a 2×2 energoon wild at a 30 charge cost. Level 1 unleashes 4 1×1 energon wilds at a 55 charge cost.
If the Quantumeter does not reach level 3 energoon wilds are unleashed to the grid. Level 4 = an x2 multiplier for all wins including gargatoon wilds, a single x2 multiplier for each winning cluster. Level 3 = a 3×3 gargatoon wild. When a 3×3 gargatoon is part of a win it will then turn into 2 2×2 gargatoon wilds. When these wilds are part of a cluster 9 1×1 gargatoon wilds appear on the grid.
Wild Pair Explosion activates if 2 or more electric wilds on the grid. After all, wins are played out any fluctometer and quantumeter effects are played out. 2 electric wilds are randomly selected, a pair of electric wilds removed all other symbols except wilds. A non-winning pair of electric wilds remove any regular symbols between these two wilds.
Conclusion
Overall, I think Play'n Go did a fantastic job creating this exciting slot sequel. I was not expecting Reactoonz to have a new modern makeover for a long time. The features sound confusing when reading but really simple once you have seen them play out for yourself while playing. Be sure to try out the slot for yourself on release. Also, be sure to check out our exclusive casino offers.