Roadkill (Nolimit City) – Slot Review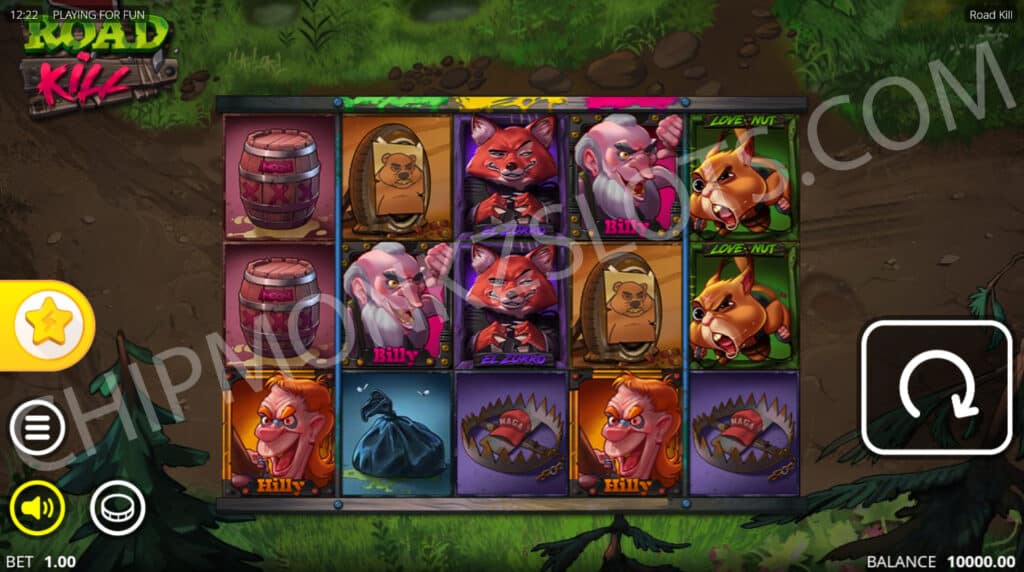 Every year, countless animals worldwide suffer tragic roadkill accidents. It's high time they rose up and took matters into their own paws. Papa Bear, Fred the Rabbit, and Deer Joe have emerged as the fierce defenders of their kind, and they're not backing down. The game's backdrop features a dirt road winding through a lush forest teeming with vibrant vegetation. The reel set is designed with simplicity in mind, combining rustic wood adorned with paint and nails. Symbols in the game represent an array of weapons chosen by the animals, three animal characters, and two human characters. These symbols are thoughtfully designed to stand out vividly against the natural landscape. As you step into the Free Spins feature, a veil of darkness descends, adding a new layer of visual depth and excitement to the game.
Roadkill presents players with a 5-reel setup with 3 or more rows, offering a total of 99 fixed paylines. It's a high variance slot with an RTP of 96.04% and a maximum win capped at 11,091x your bet. Betting options range from £0.20 to £100.
Roadkill Symbols & Pay Table

There are a total of 13 symbols in the game, which include 5 low-paying symbols represented by Bin Bags, Acorn Bombs, Traps, Flat Tyres, and Barrels. Additionally, there are characters like G. Coonie, Love Nut, El Zorro, Hilly, and Billy, who are the higher-paying symbols. The game also features Scatter Symbols, Collectors, and three different versions of Wild Symbols. The highest-paying symbol is Billy, which pays 7.5x for landing 5 on a payline.
Roadkill Features & Mechanics
Call to Arms: Triggered by landing two Scatter symbols, this mode adds two normal hearts. If a third Scatter symbol lands, it triggers the Team Assemble Free Spins feature and restores any lost normal hearts.
Collectors: Each Collector corresponds to a specific Jumping Wild animal and is triggered when a Jumping Wild is in play. Collectors increase their values as the corresponding Jumping Wild blocks cars. When a Collector reaches its cap of 5, it triggers an upgrade feature, enhancing the corresponding Jumping Wild.
Papa Bear: Acts as a Jumping Wild, moving to a random position inside the Battle Area. It increases a general multiplier whenever it stops a car.
Fred The Rabbit: Acts as a Jumping Wild, acting as a Trapper and blocking cars, leaving behind Wilds and jumping to new positions when a car is stopped.
Deer Joe: Acts as a Jumping Wild and splits symbols on the same row and direction where the car comes from when it blocks a car.
Hilly and Billy Cars: Green cars (Hilly's) and red cars (Billy's) traverse the reel area, with red cars requiring two hits to be stopped. They can damage hearts and add complexity to the game.
Roadblock: Triggered by collecting 20 hits, this feature transforms all Jumping Wilds into row-covering Wilds, and Hilly and Billy cars traverse the Battle Area, causing various effects based on the row they hit.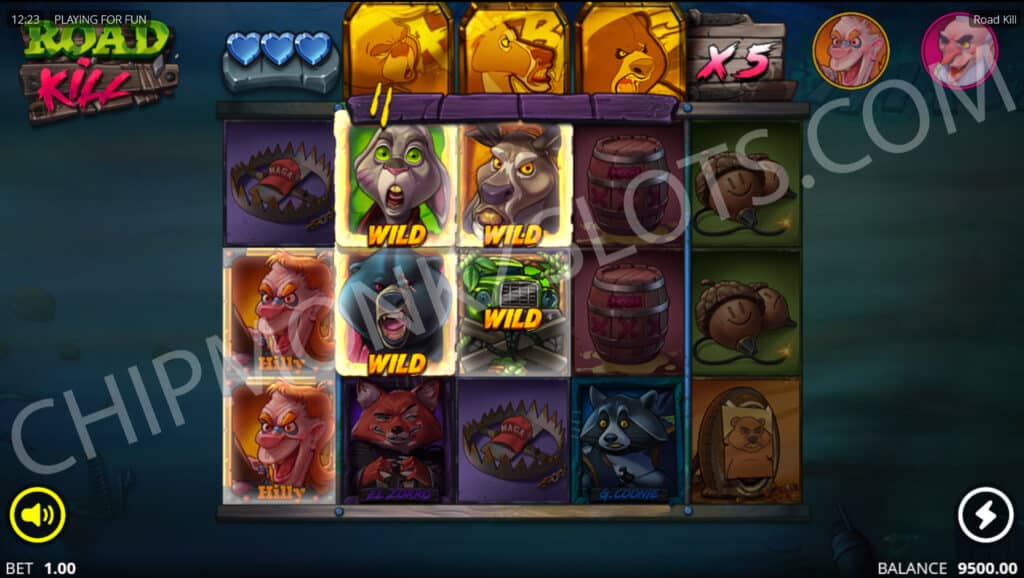 Bonus Features
Team Assemble: Triggered by collecting 3 Scatters during the Base Game or Call To Arms, it enables Red and Green cars to come into play on every fifth spin.
Junkyard Assault: Triggers when all three Jumping Wilds have been upgraded. Red cars are in play on every spin, and the Jumping Wilds' individual Collectors are replaced with a Total Collector. The Roadblock feature is triggered whenever the Total Collector reaches its cap.
Bonus Buys
Players can buy their way into different bonus features at various costs, ranging from 100x to 500 times the base bet.
Conclusion
In summary, Roadkill provides an engaging theme with meticulously crafted visual elements. Nolimit City consistently delivers a fantastic soundtrack and sound effects to enhance the overall gaming experience. In terms of mechanics, the game boasts a variety of special symbols and two primary bonus features. Be sure to try out the game for yourself and check out our exclusive casino offers