Vegas Rush (Big Time Gaming) – Slot Review
Renowned game provider Big Time Gaming returns with thrilling announcements for the upcoming Q2, offering a plethora of exciting gaming options for enthusiasts. Following the successful launch of The Race and the much-anticipated release of Over The Moon next week, fans of Big Time Gaming have plenty to look forward to this year. The provider is known for its distinctive creativity and the development of numerous groundbreaking mechanics. In today's review, we delve into the details of 'Vegas Rush,' scheduled for release on May 24th.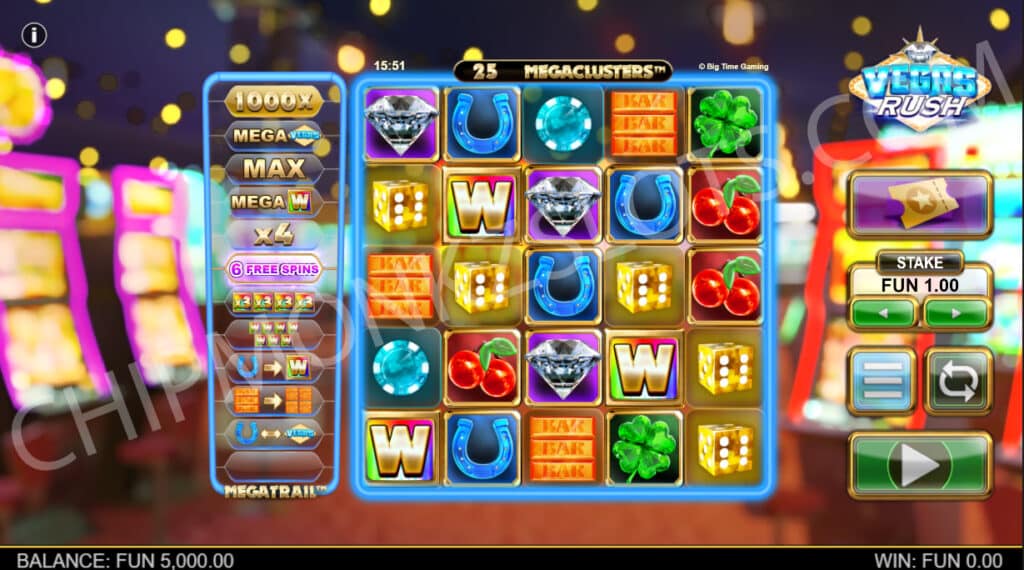 Vegas Rush transports players to a quintessential Las Vegas casino, brimming with rows of diverse slot machines. The unique ambiance comes alive with the cacophony of sound effects from the machines and the dazzling lights surrounding the area. Some players quietly spin the reels, while others are more vocal, and the crowd gravitates towards jackpot sound effects to witness the excitement. There's nothing like your first visit to a land-based casino, especially if you leave with extra cash from a significant win. The slot itself features classic symbols such as Bars, Dice, Cherries, and other traditional icons. With a focus on gameplay and mechanics, the visuals of Vegas Rush are simplistic, highlighted by the inclusion of Megaclusters.
Vegas Rush features a 5×5 grid with Cluster Pays, requiring 5 or more matching symbols for a win. This high-variance slot has a 96.44% RTP and a maximum win potential of 47,200x your stake. Betting ranges from £0.20 to £20 per spin.
Vegas Rush Symbols & Pay Table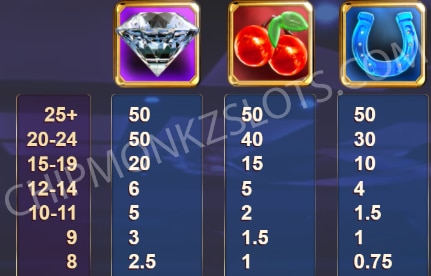 The game comprises 8 symbols in total, including 4 low-paying symbols represented by poker chips, dice, bars, and four-leaf clovers. The 3 premium symbols consist of horseshoes, cherries, and diamonds. Additionally, there is a Wild symbol that substitutes for all other symbols.
Vegas Rush employs the Megaclusters mechanic. When a win occurs, each winning symbol is replaced by 4 smaller symbols. Wins with these smaller symbols cause symbols of the same size above to drop down, and new symbols fall from the top to fill any empty reel positions. Reactions continue until no more wins take place within a spin.
Vegas Rush Features & Mechanics
A Megatrail is displayed on the left side, featuring 12 sections randomly determined on every base game spin. It offers 12 bonus prizes up to 1000x and 6 Free Spins at tier 7. Three random bonuses can also be added to the Megatrail. Possible Megatrail prizes include:
Wilds: Up to 10 Wilds randomly added to the grid.
Multiplier Wilds: Wilds with up to 5x Multiplier added.
Symbol to Wild: All instances of the displayed symbol become Wild.
Mega Wild: A 4×4 Wild grid added; two grids during Free Spins.
Symbol Subdivide: Each big instance of the displayed symbol transforms into 4 smaller symbols.
Symbol Upgrade: All instances of the displayed symbol upgrade to the indicated symbol.
Win Multiplier: Up to a 100x Multiplier for the current spin.
Max Megaclusters: All big symbols are replaced by 4 smaller symbols.
Symbol Duplication: Five instances of the displayed symbol added in a row or column.
Symbol Explosion: All instances of the displayed symbol remove symbols in their row or column.
Explosion: Up to 3 explosions in the displayed shape remove symbols.
Mega Explosion: All symbols in top, bottom, left, and right of the grid are removed.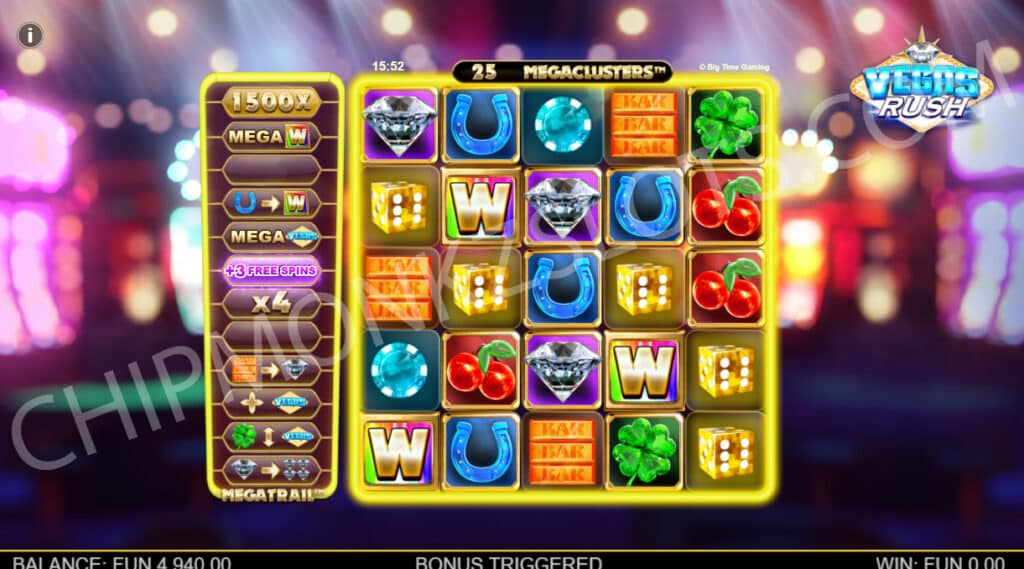 Achieving 7 consecutive wins during a base game spin activates the Free Spins feature, awarding 6 Free Spins. Before the spins begin, an enhanced Megatrail is randomly selected and remains active throughout the feature. A bonus prize on tier 12 offers up to 2,000x your stake. Upon reaching tier 7, 3 additional Free Spins are awarded, and at least 6 randomly selected bonuses are added to the Megatrail. This feature can be purchased for 60x your chosen stake.
Conclusion
Although the graphics of Vegas Rush are comparatively understated, the gameplay experience remains exceptional. The Megatrail offers a seven-step process to trigger Free Spins and grants additional grid modifiers along the way. Providing a range of impressive features such as random Wilds, multiplier Wilds, Win Multipliers, and symbol duplication, among the 12 possible Trail Bonuses. I like that Big Time Gaming has gone for a different approach with this launch and think players will enjoy this new gameplay experience from the provider. Be sure to try out the game for yourself and check out our exclusive casino offers.