West Coast Cash Infinity Reels Slot Review – ReelPlay
It is time to catch up with ReelPlay on their latest game releases and announcements. The newest game review was for the slot titled 'Professor Clank's Combinator', which has a max win capped at 10,000x and Bonus Respins with bonus prizes up to 2,000x. The studio is known for its unique Infinity Reels mechanic, which includes a long list of games now. In today's review, we are learning all about 'West Coast Cash Infinity Reels', which are available to play now!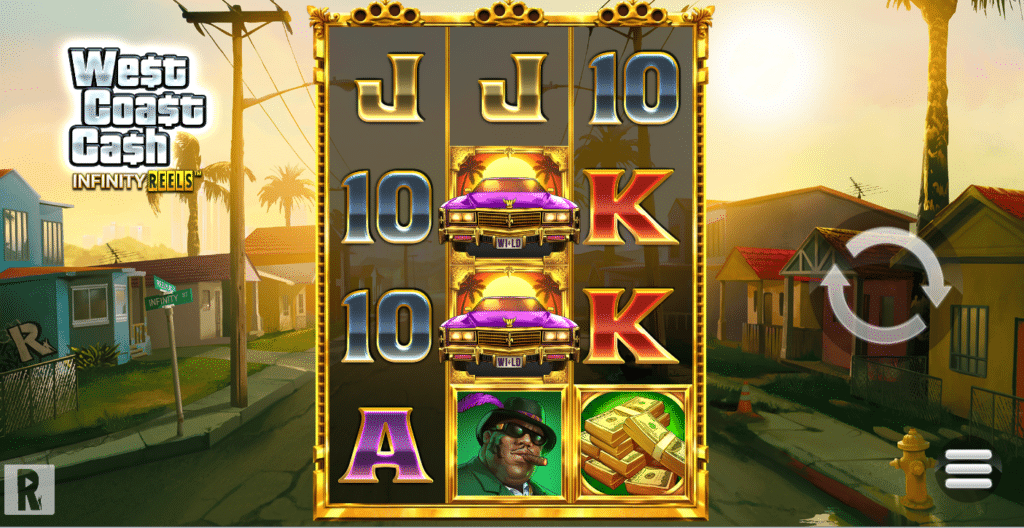 After one glimpse at this slot I get a lot of reminders to the Game franchise Grand Theft Auto. The game background looks to be set on Grove Street possibly, with houses either side of the road and a lot of smaller details to look out for. Including palm trees. street signs, graffiti and many more. The art work is well detailed, with a beautiful sunset in the distance and clear skies. The reel border is engraved gold, with gold borders also around all premium symbols and metallic colours for all low paying symbols. Premium symbols show off the best detailing, with characters and luxury items such as purple low riders. I think ReelPlay have nailed the visual aspects for this game, with a unique theme choice and animations which stand out.
West Coast Cash Infinity Reels has a setup of 3 reels by 4 rows; this includes infinity reels. This slot is high variance with a set RTP of 96.16% and a max win capped at 20,350x. You can bet from £0.20 to £25.
West Coast Cash Pay Table & Symbols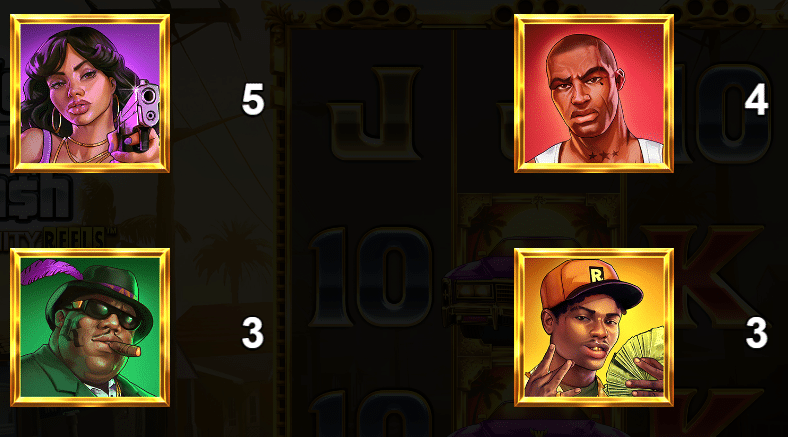 There are 12 symbols in total; this includes 6 low-paying symbols. These are represented by 9, 10, J, Q, K and A. There are also 4 premium symbols, which are represented by 4 characters with golden borders, plus Yellow, Green, Red and Purple backgrounds. In addition to these regular symbols is a money scatter and lowrider Wild symbol. The highest-paying symbol is the purple background character premium. Wilds substitute for all symbols except the cash scatter.
West Coast Cash Features & Mechanics
All spins begin with 3 reels; on any spin, if the rightmost reel improves any symbol combination, an extra reel will then be added to the right of the reel set. This new reel is spun, if the symbol combination is improved, then another reel is added, and this will repeat. Repeating until the symbol combination is not improved with this new reel.
There is a Symbol Multiplier which is applied to all symbols except the cash scatter. The multiplier always starts at 1x, increasing by 1x for each new reel that is added to the reel set. A win of 888x is awarded when a spin occurs with 12 or more reels being added.
The LevelUp Respins feature is triggered when 3 or more scatters during a base game spin. Awarding 3 Respins, all Cash symbols will stick in place, and all other symbol positions will spin. Any Cash symbols that land during Respins are held, and spins are reset to 3. Each time a reel is filled with 4 cash/special symbols a new reel is added to the right side of the reel set and spun. Each Cash symbol starts with a prize of 1x to 5x; on each respin, every cash/dealer/enforcer gains a dollar sign.
When one of these symbols accumulates 6 dollar signs, it will level up, and its prize increases by 1x to 5x. All dollar signs are removed from the symbol and will start accumulating dollar signs on the next respin. Each time a Cash symbol levels up, there is a chance it will transform into one of these four special symbols;
Hustler – Levels up on every respin, increasing the prize by 1x to 5x.
Pimp – Increases the prize value by 10x to 50x and then transforms back into a Cash symbol.
Dealer – Adds its own prize value to adjacent cash/special symbols every time it levels up.
Enforcer – Adds prizes from adjacent symbols to itself every time it is levelled up.
Adjacent symbols for Dealers/Enforcers include positions 1 space to the left, right, above and below (Up to 4 positions total). When Respins are complete, each cash/special symbols award is displayed.
Conclusion
Overall, If you are a lover of games filled with luxury and modern visuals you will enjoy West Cost Cash. The game background artwork shows off a pleasing aesthetic, thanks to the sunset for the lighting effect and soft colours used. The reel set stands out with brighter colours used, golden borders for premium symbols and the reel set. Including 4 character symbols with vibrant backgrounds and luxury items. There is a lot of small details to look out for within the game background and a lot of depth. Now onto the features & mechanics;
There is an active multiplier which can reach up to 888x, increasing by 1x for each additional reel added. A respins feature with sticky cash symbols with prizes of 1x to 5x. These can be upgraded and transformed into one of four special symbol. Each comes with a unique ability, such as increases prize value and level ups. There are a lot of different mechanics included in this game, with high volatility and excitement as you spin. Be sure to try out the game for yourself and also check out our exclusive casino offers.