6 In The Chamber (Lucksome) – Slot Review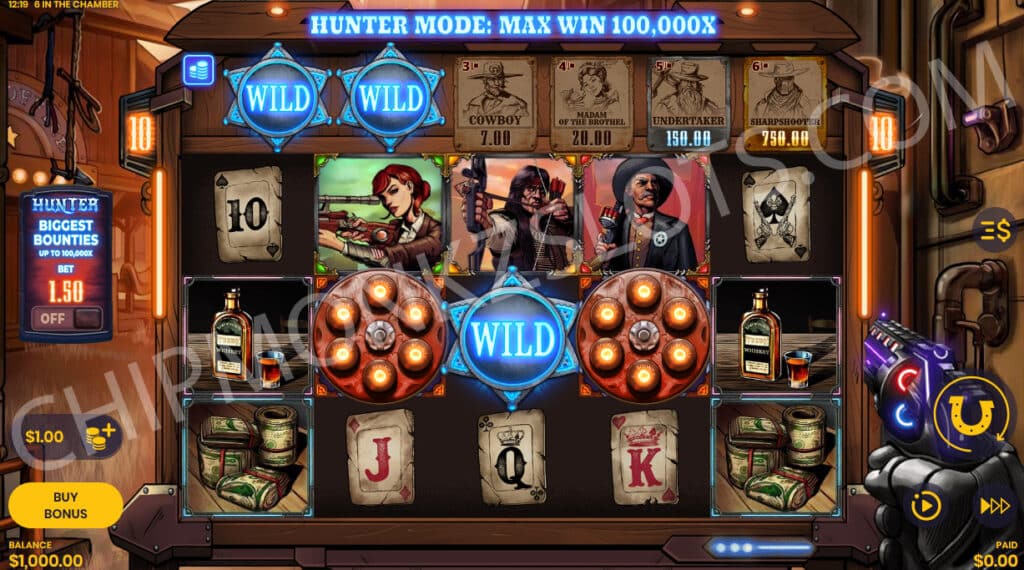 Game provider Lucksome immerses us in a uniquely interpreted Wild West, ingeniously meshing it with futuristic elements. The game backdrop reveals a quintessential western town, replete with rustic wooden structures and a characteristic saloon. To the right, an array of mechanisms and a hand clutching a revolver bring the scene to life. The commendable artistry, detailed and distinctive, is particularly striking. Adding to this atmosphere, neon lights embellish certain aspects of the game, emphasizing money values and other significant elements.
As the scene transitions to nighttime, these radiant neon accents become even more pronounced, further amplifying their bright, glowing effect. The gameplay is a delightful blend of excitement and engagement, thanks to the seamless incorporation of animations and sound effects. This game stands out for its innovative fusion of themes and immersive sensory experience.
6 In The Chamber offers a traditional slot setup featuring 5 reels by 3 rows with 10 fixed pay lines. The game is characterized by high volatility, a set RTP of 96%, and a maximum potential win of 100,000x your bet. You can stake from £0.10 to £20.
6 In The Chamber Symbols & Pay Table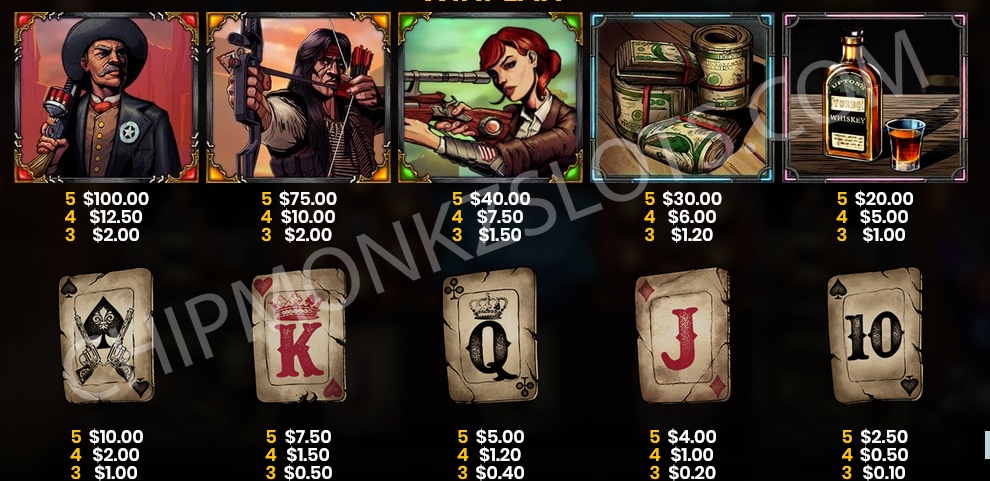 The game's 14 distinct symbols comprise 5 low-value symbols represented by 10, J, Q, K, and A. Furthermore, 5 premium symbols depict Whiskey Bottles, Rolls of Cash, a Female Sniper, a Male Archer, and a Male Shotgunner. Alongside these symbols, there are two types of wilds (Ricochet Wild and Regular Wild) and two scatters (Hunter Mode Scatter and Rookie Free Games Scatter).
Ricochet Wilds
Ricochet Wilds serve as substitution symbols on the reels. They can be triggered in the Main Game following the first and/or second winning cascades within a game round. If a Ricochet Wild replaces a Bonus Scatter Symbol, it turns into a Scatter Wild, which behaves as both a regular wild symbol and a Bonus Scatter Symbol. It reverts to a Bonus Scatter Symbol after contributing to a winning combo. Should a Ricochet Wild replace a Wild Symbol, extra Wild symbols will replace all symbols in the immediate horizontal and vertical vicinity. Ricochet Wilds can land anywhere on the reels and are always triggered after the first and second winning cascades in all Bonus Games.
6 In The Chamber Features & Mechanics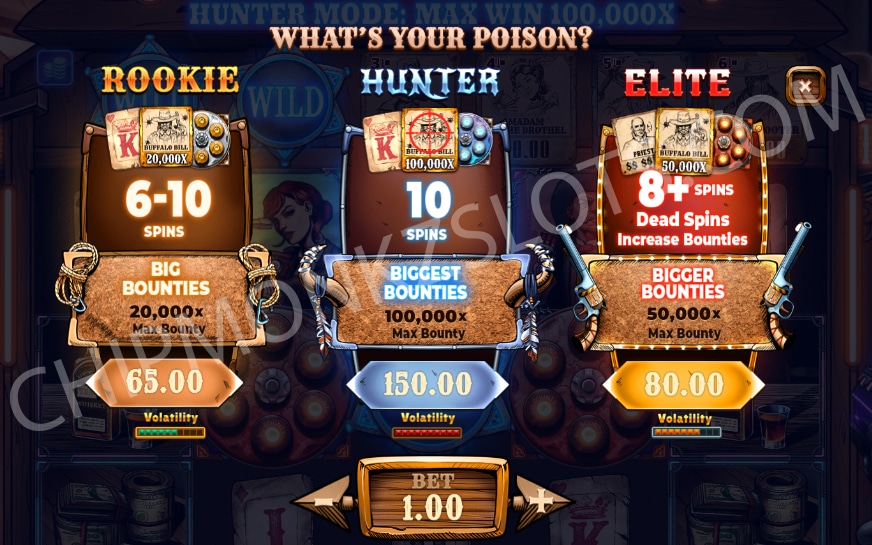 Bounties
Bounties are characters that carry cash prizes and are categorized into Small, Medium, Large, and X-Large tiers, each comprising three characters representing varying prize ranges. Only one Bounty can be won per spin. In the Main Game, a Bounty is won after a specific number of winning cascades are achieved, while in Bonus Game Spins, higher numbers of cascades are required. The Buffalo Bill Bounty, the most valuable, is exclusively available in Free Games and is unchangeable once drawn.
Rookie Free Games
Rookie Free Games ensure Ricochet Wilds trigger after the first and second winning cascades, and the Buffalo Bill Bounty can yield a maximum payout of 20,000x your bet.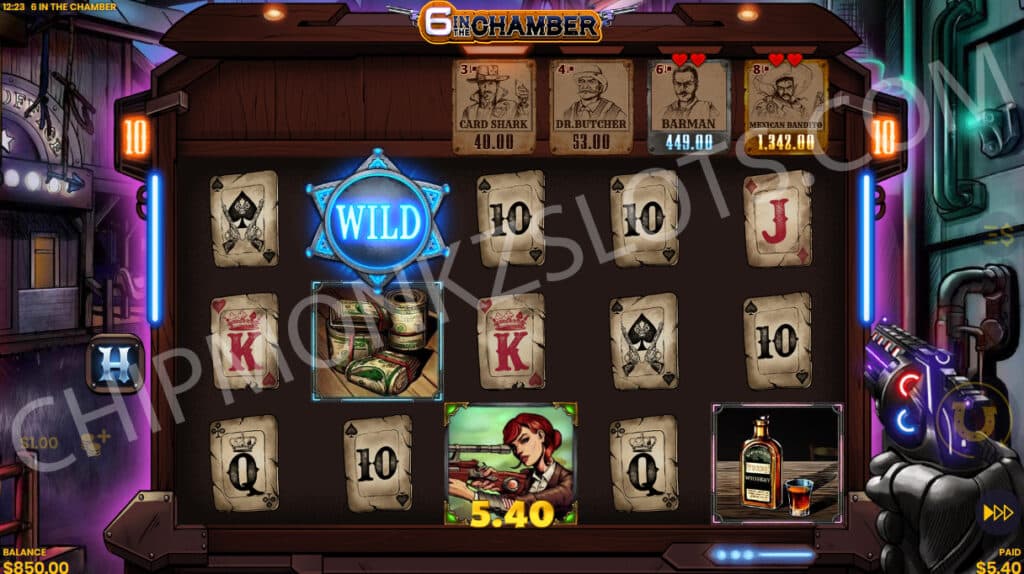 Elite Free Games
Elite Free Games differ by offering increased Bounty values on every non-winning spin. Players are awarded 3 Elite shots, each causing further cascades without counting as a winning cascade. The maximum payout on the Buffalo Bill Bounty here is 50,000x your bet.
Bounty Achievement Board
The Achievement Board, accessible via the game UI, keeps track of bounty collection frequency, biggest wins per character, and more. It's available when the game is in Idle mode. Even if a bounty win was exchanged in the Bonus Feature Exchange, the board updates.
Bonus Buys
Bonus Buys offer different maximum bounty potential at varying costs:
Rookie (20,000x Max Bounty) at 65x your bet.
Hunter (100,000x Max Bounty) at 150x your bet.
Elite (50,000x Max Bounty) at 80x your bet.
Conclusion
Overall, "6 In The Chamber" marks a remarkable offering from Lucksome, showcasing captivating gameplay underscored by intricately detailed visuals and effects. The inclusion of a variety of features and mechanics ensures the gameplay remains dynamic and entertaining. Standout components comprise three main features, all of which can be purchased. Coupled with a staggering maximum win potential capped at 100,000x, "6 In The Chamber" is a testament to the innovative prowess of its provider. Be sure to try out the game for yourself and check out our exclusive casino offers.