DJ Psycho (Nolimit City) – Slot Review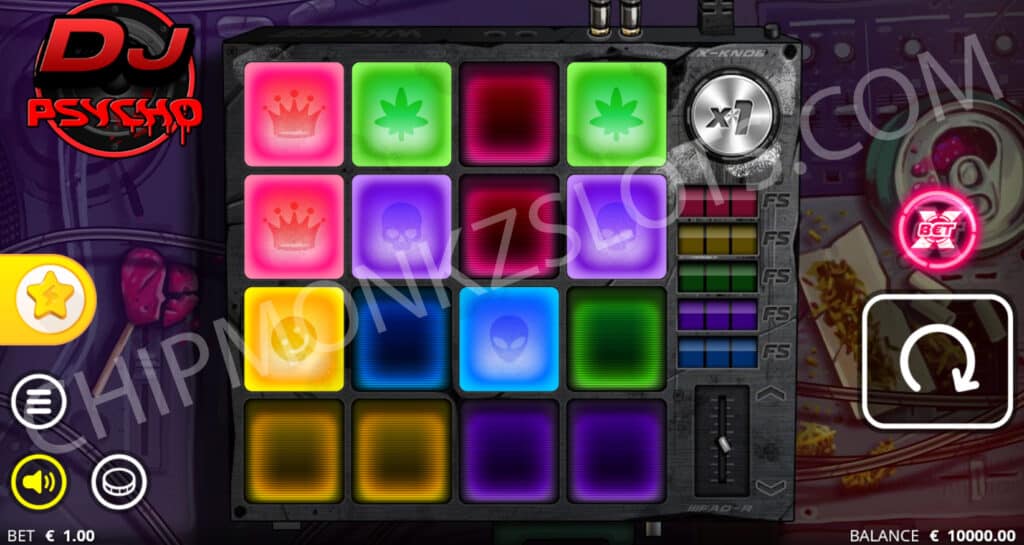 Nolimit City, a prominent game provider, introduces us to the enigmatic DJ sensation, DJ P5ychØ, currently taking the music scene by storm. While some question his very existence and others attribute an otherworldly quality to him, one undeniable fact remains – this DJ's magnetic presence is sure to leave a profound impact on all fortunate enough to encounter him. The game's reel set takes an innovative approach, emulating a Launch Pad, with symbols representing both illuminated and non-illuminated buttons. Complementary meters and symbols are strategically positioned on the right, seamlessly aligning with this inventive concept.
The game background exudes a sense of organized chaos, featuring an array of equipment, discarded lollipops, partially consumed cigarettes, and an opened beverage can. Remarkably, the background dynamically shifts to reflect the triggered Bonus Feature, each showcasing whimsical details waiting to be discovered. The visual composition is distinctly enhanced by the use of vibrant neon lighting and bold color schemes. The art style employed in this game stands as a testament to the provider's creativity, underscoring their meticulous design approach for this exceptional launch.
DJ Psycho features a grid layout of 4 reels by 4 rows, employing Cluster Pays mechanics requiring a minimum of 3 matching symbols to form a winning combination. This slot boasts high volatility with an established RTP of 96.05% and offers a potential maximum win of 25,420x your wager. Bets can range from £0.20 to £100.
DJ Psycho Symbols & Pay Table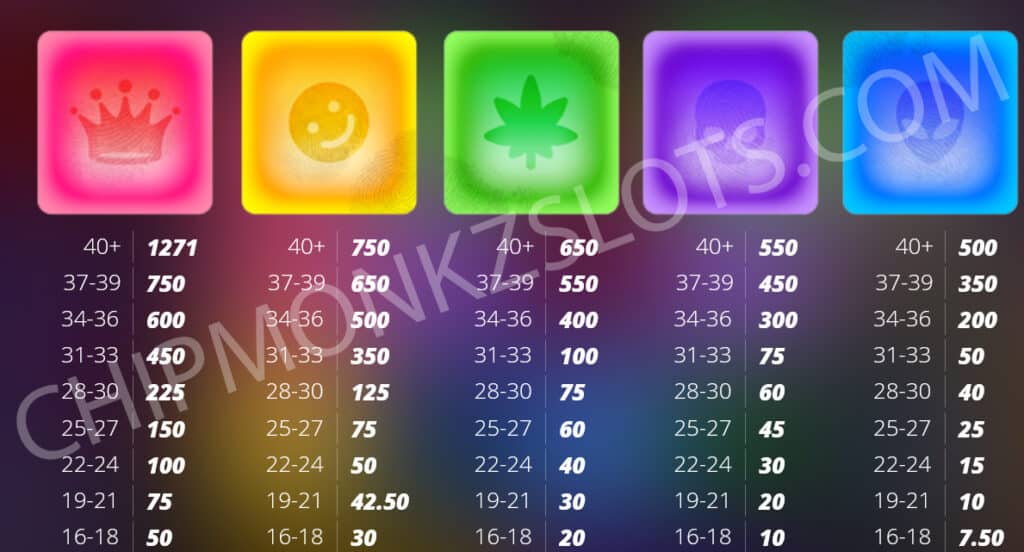 A total of 15 symbols grace the reels. These encompass 5 low-paying symbols represented by Blue, Purple, Green, Yellow, and Red Launch Pad Buttons. Additionally, 5 premium symbols feature, portrayed by Blue Aliens, Purple Skulls, Green Weed Leafs, Yellow Smiley Faces, and Red Crowns. The array is further enriched with special symbols including the Break Symbol, xKnob Symbol, Bite Symbol, Drop Symbol, and xBPM Symbol. The highest paying symbol is the Red Crown premium, rewarding between 1x to 1,271x for clusters spanning 3 to 40+ symbols.
Cluster wins are achieved when a group of symbols, three or more in number, are contiguous horizontally and/or vertically. Winning clusters result in the symbols being removed, allowing fresh symbols to descend into their place.
DJ Psycho Features & Mechanics
When a symbol is transformed via specific features, it acquires a secondary value. Medium paying symbols evolve into additional Medium paying symbols after the first transformation.
The first transformation of any Low paying symbol results in an extra Low paying symbol.
Upon subsequent transformations, the new symbol becomes a Wild.
The xKnob symbol transforms into a Wild while adding a minimum +1 to the overall multiplier, affecting all wins. The achieved value remains active in the Psycho Spins.
The BREAK symbol bestows itself and neighboring symbols (above, below, left, and right) with an additional chosen symbol value.
Medium paying symbols are transformed into additional Medium paying symbols, designated as Crossed symbols.
Low paying symbols metamorphose into additional Low paying symbols, also identified as Crossed symbols.
The BITE symbol imparts its symbol value to itself and diagonally adjacent symbols.
Medium paying symbols turn into extra Medium paying symbols, dubbed Crossed symbols.
Low paying symbols convert into additional Low paying symbols, also recognized as Crossed symbols.
The DROP symbol activates when 2 instances appear on the reels. A solitary DROP symbol is inactive.
If 2 DROP symbols emerge, the shortest path between them causes symbols in that path to transform into another symbol.
Upon landing, the xBPM symbol becomes a Wild and multiplies the symbol size by 2 for each symbol on the same row.
The Beat Bar monitors the progress of multipliers on colored symbols. Each time a coloured symbol connects, the specific colour gains +1.The Beat Bar resets at the start of each new game round in the base game. During avalanches, Gees Spins, and Psycho Spins, the Beat Bar becomes sticky until a new bet is placed.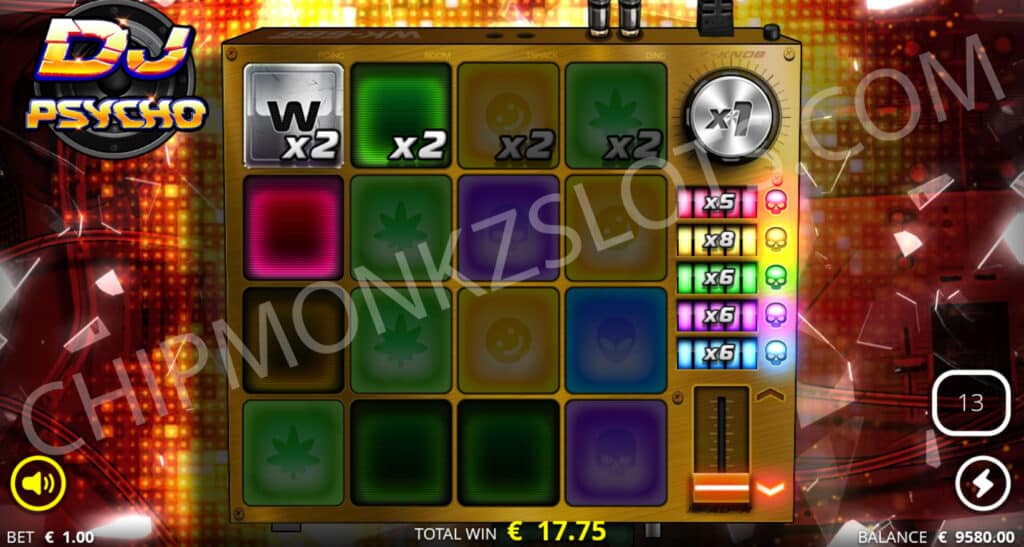 Free Spins
Gees! Spins
When a chosen colour reaches a x3 multiplier during the base game, Gees Spins initiate with 5 initial spins. Gees Spins are triggered by colors with activated freespins on the Beat Bar.
Attaining an x3 multiplier for other colored symbols awards an additional 2 spins.
Psycho Spinz
Achieving an x5 multiplier for ALL coloured symbols during Gees Spins triggers Psycho Spins. If an x5 multiplier is reached for all colors in the base game, Psycho Spins grant 17 spins.
Psycho Spins feature a sticky general multiplier, and every hit ensures a feature symbol in the subsequent avalanche.
Bonus Buy Options
For an extra cost of 335%, players heighten the odds of triggering various features.
Boosted xBet – An extra cost of 335%, increasing the odds of triggering various features.
Gees Spinz can be purchased for 50x.
Lucky Draw 1 can be bought for 77x.
Lucky Draw 2 is available for 209x.
Psycho Spinz can be acquired for 420x.
Conclusion
In its entirety, DJ Psycho offers an immensely engaging gameplay, enhanced by its vibrant visual elements and captivating sound effects. The game ingeniously combines an array of mechanics, incorporating both familiar and innovative features that are sure to captivate players. This amalgamation includes an assortment of special symbols and the inclusion of not one, but two distinct Free Spins features. Notably, the game's soundtrack stands out as particularly catchy, a hallmark that I eagerly anticipate with every new release from Nolimit City. Be sure to try out the game for yourself and check out our exclusive casino offers