Fruity Candy (PG Soft) – Slot Review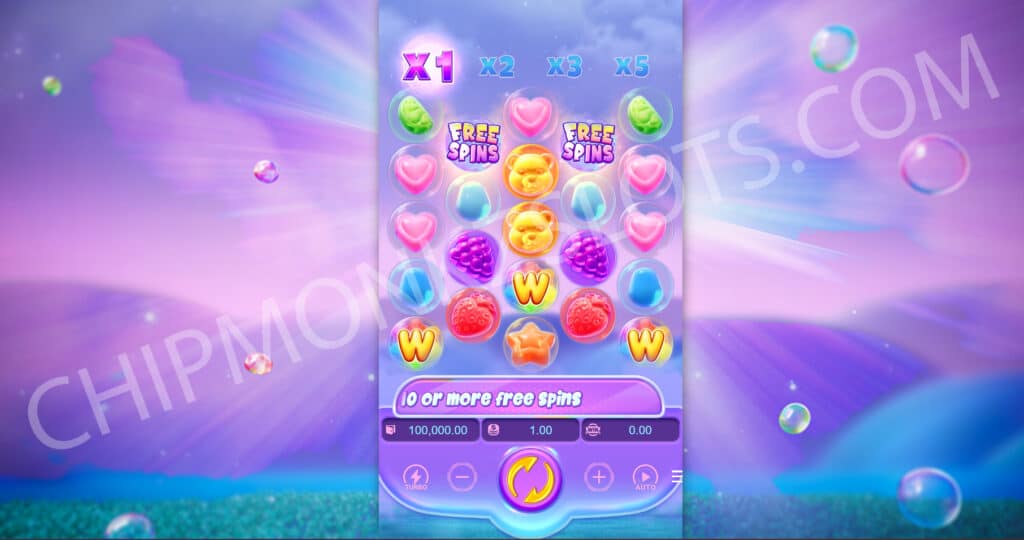 In the esteemed Kingdom of Kechira circulates a legend of enchantment and sweet marvel: A stunning candy palace, materializing on the northern frontier with every descent of nightfall. The inhabitant, a candy connoisseur of mythical repute, is whispered to possess a singular, mysterious prowess — the creation of 'Flying Candy,' a confection that bestows upon its consumer the ability to soar amidst the avians. His years have been fervently dedicated to crafting a specific sweet, known as 'Fruity Candy.' A bite of this whimsical treat has the power to materialize dreams into tangible figures! Legend dictates that he documented his esoteric skills within a concealed tome, securely hidden within a perplexing candy labyrinth.
In a twist of greed and ambition, the King of Kechira dispatched men to procure this secret book, envisioning the prosperous exploits it could bring. However, navigating through the candy master's intricate maze is no meager feat. Will the royal emissaries successfully traverse through the bewildering labyrinth, securing the concealed confectionary secrets for their sovereign? 'Fruity Candy' is a delight to those who find joy in sugary treats and vibrant aesthetics. Its visual appeal is striking, flaunting bold and vibrant colors. The symbols, encapsulated in delicate bubbles, are represented by candies of various hues and shapes, providing a visually splendid gaming experience.
Fruity Candy orchestrates a vibrant and lively gaming experience across its uniquely structured 5-4-4-4-4 reel format, extending up to 8 rows and providing up to 25,088 betways. Embark on a high-variance adventure with a set RTP of 96.75%, and the potential to grasp a max win capped at an impressive 10,000x. Betting options range from a friendly £0.30 to a daring £90.
Fruity Candy Symbols & Pay Table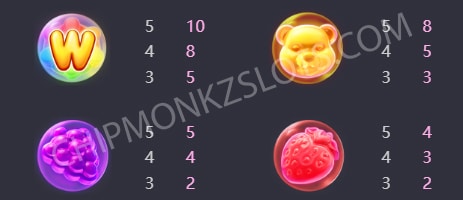 A total of 9 symbols pepper the reels, comprising 4 low-paying symbols depicted by Blue Jelly Beans, Green Limes, Pink Hearts, and Orange Stars. The 3 premium symbols stand out, represented by Strawberries, Grapes, and Teddy Bears. Alongside these conventional symbols, the game features a Wild Symbol and a Free Spins Scatter. Notably, the highest paying symbol is the Wild Symbol, offering 10x for a line of 5, and substituting for all symbols excluding the scatter.
Fruity Candy Features & Mechanics
Each spin commences with a win Multiplier set at 1x and the reel formation at its original size. During any spin that yields one or more winning combinations, an additional row of symbols cascades into play as new symbols, expanding the playing field. Additional rows can extend up to 7-8, depending on the reel. Additionally, any win propels the Multiplier, escalating it to 2x, 3x, and capping at 5x upon the fourth win, applicable to all ensuing wins.
Triggering the Free Spins feature is achieved by landing 3 or more scatters during a base game spin, awarding a generous 10 Free Spins. Any additional scatters present in the initial trigger further embellish the feature with 2 extra spins. Upon the commencement of each Free Spin, all Multipliers are amped up to 2x, 4x, 6x, and 10x. The appearance of additional scatters during this feature will grace the player with 2 extra spins, and Multipliers are boosted by 1, 2, 3, and 5 for each scatter present on the reel set.
Conclusion
Fruity Candy delivers a delightful gaming experience, melding a well-treasured theme with strikingly vibrant visuals. The features are not to be overlooked, boasting an escalating Multiplier and a Free Spins feature, complemented by a distinctively unique reel set capable of expansion. This game is undeniably worth exploring for an enjoyable virtual adventure. Be sure to try out the game for yourself and check out our exclusive casino offers.