Generous Jack Slot Review – Push Gaming
Only 10 days until Christmas now, which in the casino industry means 2023 announcements have already begun for some studios. It has been a busy couple of months for admired provider Push Gaming, who normally releases 1 game per month. For the end of 2022 we have been treated to multiple games to the end of the year, which I do need to catch up with. Since my last review was for the slot titled 'Mystery Mission To The Moon', which has a max win of 10,000x and a Free Spins feature with sticky Mystery Stacks. Today we are looking at a slot which is the first of its kind in the casino industry and includes a new mechanic called 'Push-Up'. This game in question is titled 'Generous Jack', available to play now!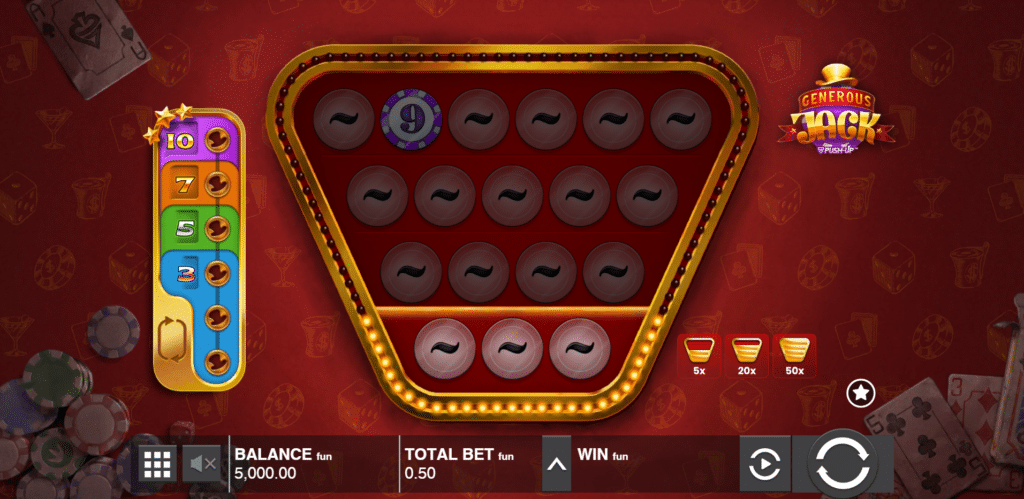 For visuals, nothing is over the top, with a classic casino background featuring playing cards and stacks of chips. The kind of red velvet you would see on a Blackjack or roulette table in a casino. With added artwork of dice, chips, playing cards and martinis. The reel set itself has a golden border with bright lights, lighting up only up to the currently active row. These lights will light up as you unlock rows so you can visually see this with ease. We see red again, this time brighter and as all regular symbols background. More bright lights are seen on the meter on the left, also lighting up as you collect Golden Jacks.
Symbol Chips have a sleek design, with particular colours for different tiers of multipliers. Blue for the lowest and Purple for the highest. While you spin, there is a classic soundtrack that plays. I think Push Gaming have nailed the artwork, animations and overall visuals for this slot. Everything works together so well; not too much to concentrate on as you spin, and not overwhelming to look at.
Generous Jack has a setup of 3 to 6 reels by 1 to 4 rows; this includes no set pay lines. This slot is high variance with a set RTP of 96.23% and a max win capped at 10,000x. You can bet from £0.01 to £100.
Generous Jack Symbols & Pay Table

There are 12 symbols in total; this includes 10 regular symbols. These are represented by 0,1,2,3,4,5,6,7,8 and 9 coloured poker chips. In addition to these regular symbols is a Golden Jack Symbol and a Dud symbol. Each numbered symbol represents a multiplier value; the 0x symbol is only valuable to the right of any of the other Chip symbols. For example, if it lands to the right of a 1 it will become 10. The Dud symbol has no value and represents a Blank. Poker Chip values are only paid out if they land on Active rows.
Generous Jack Features & Mechanics
Betting Options
There are 3 different betting options with the 'Push-Up' option available. Betting 5x your bet size will activate 2 rows, Betting 20x your bet size will activate 3 rows and Betting 50x will activate all rows. For example, if your original bet size is 10p, spinning with all rows unlocked will cost £5 per spin. If you wanted to only play with 2 rows activated on each spin at at 50p stake, it will cost £2.50 per spin. You can try all different combinations with your bet & how many rows are active per spin, making this slot perfect for low & high stake lovers.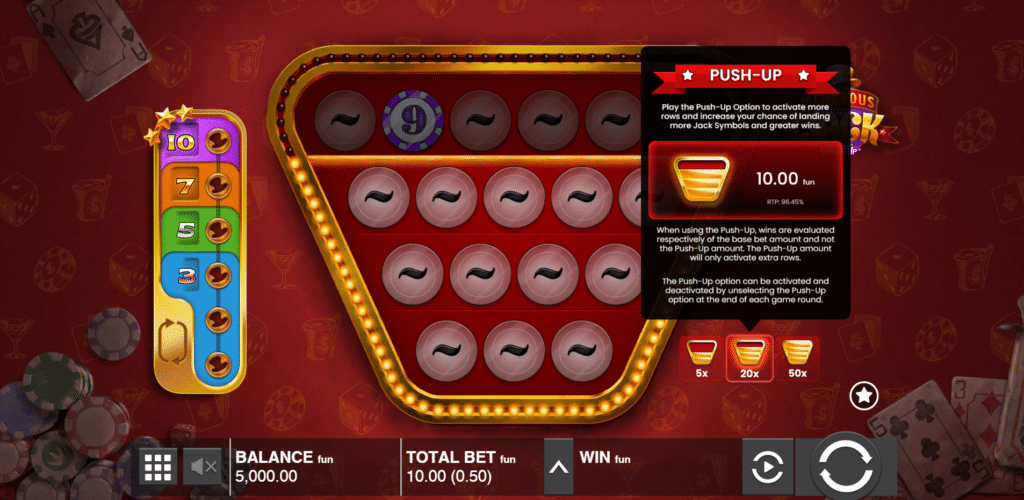 Mechanics
When a Golden Jack symbol lands on an Active reel, it is collected into the Free Spins meter and removed from the reel set. The scatter is added to one random position on the meter. Plus, the next row will become active. Any Generous Jack symbols landing on this new activated row will then also be collected into the Free Spins meter, and a respin is also awarded. Any Jack Symbols collected on the newly activated row will not activate an additional row.

Landing 2 or more numbered chip symbols next to each other, left to right, will award the digit prize displayed. So, for example, landing a 5 & 0 chip next to each other will award 50x. Landing numbered chips by themselves will award the prize displayed on the chip individually, 1x to 9x, depending on the chip.

If a Dud Symbol lands between 2 numbered Chip symbols, it will act as a Blocker. So, for example, if a Dud symbol lands between a 5 & 3, only 5x & 3x are awarded individually instead of 53x. It is the same for if a Dud lands between a numbered chip and a 0 chip, instead of, for example, 50x being awarded only 5x as the 0 chip is worth nothing on its own.
Free Spins
To be awarded the Free Spins feature, the light blue portion of the meter needs to be filled. You can win up to 10 Free Spins; more than 3 spins cannot be awarded unless the bottom segment of the meter is filled with scatters. Once all Jack Symbols have been collected, spins will begin. All rows that were active from the base game are active for these Free Spins. No symbols will stick during this feature, and it spins like the base game. But rows remain active between spins! This feature can be purchased for 150x your chosen stake, with a random number of spins awarded.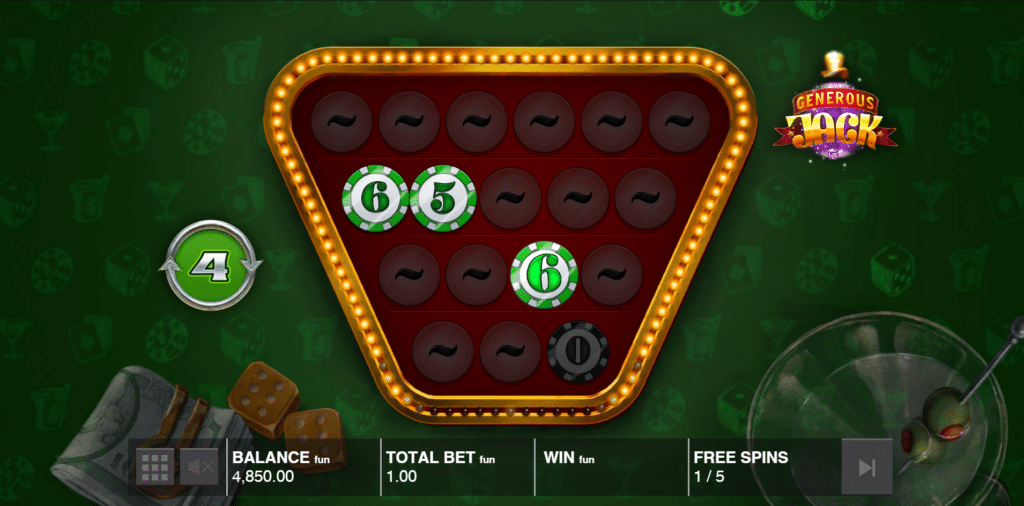 Conclusion
Overall, I think this slot is a very intriguing and the first of its kind for the casino market. With new can come confusion when people see this game for the first time. However, once you learn once it is very easy to remember the mechanics of this slot. I love that Push Gaming are trying new things with their slot creations, it would be interesting to see another Push-Up release in the future!
Visually Generous Jack has a sleek modern design. With the game background looking like what you would see on a roulette or card game table in a casino. The bright lights around the reel set & the meter on the left side visually indicate your current row and collected scatters. Multiplier symbols are poker chips, with different colours for the border depending on the value. Gameplay is smooth with no overwhelming pop ups or animations appearing as you spin. The whole experience as you play this game is high quality and goes well together. Now onto the features & mechanics;
The different betting options means everyone can play around with the different activated rows and stakes. Perfect for low stakes or high stakes with the ability to play from 1p to £100 depending. The symbols in a line together actually paying what they makeup is an incredible mechanic. Seeing three 9 symbols next to each other and actually receiving 999x must be an experience. When you have two of these numbers next to each other and lucky enough for a slow roll you will be the edge of your seat. The respins in the base game are crucial when you have numbers on the reel set. The Free Spins feature feels like it is missing something special which is such a shame. Be sure to try out this game for yourself and check out our exclusive casino offers.