Rise Of Olympus 100 Slot Review – Play'n Go
Popular studio Play'n Go is still on a roll with consistent slot releases each month, with an average of 3 to 5 slot releases each month all year long. The studio has been very successful, being one of the oldest in the casino industry and keeping their known consistency the whole time. Known for a long list of different games, including some old gems which have been revamped for new modern times. Plus new additions showcasing new mechanics and memorable characters. In todays review we are learning all about a re release of a popular 2018 slot release, titled 'Rise Of Olympus 100' which is available to play now!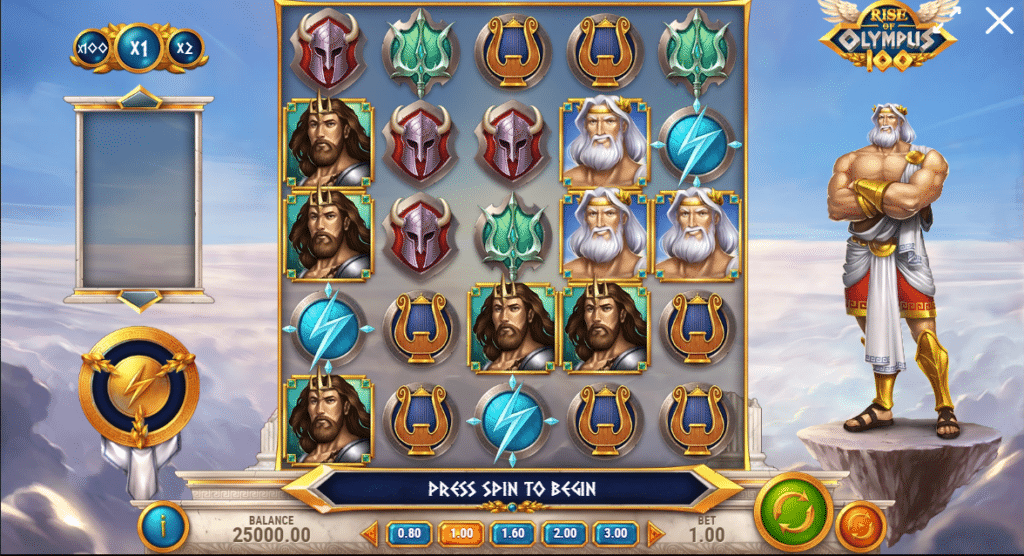 The original game is titled 'Rise Of Olympus', which was released in 2018. Both games use the popular Greek Mythology theme, with the 3 gods Hades, Poseidon and Zeus making an appearance. Each appearing on the reel set as a premium symbol and on the right side of the reel set when active. The game background will change depending on which god is appearing on the right side. Each character is well designed, with a lot of detail and unique visuals playing when features are activated. All game backgrounds represent the theme & gods very well, I love that these change to match the gods and the animations that play. Visually I struggle to see any big differences from the original game, possibly some little tweaks and changes but they may be hard to spot at first.
The only differences I have managed to spot is the multiplier counter on the top left, which is now golden and blue. Also the title of the game which is displayed above the god on the right side. Symbols use the same items and gods as the original, sticking with vibrant colours so the reel set stands out. I was hoping to see new visual aspects and feel slightly let down, it seems changes are seen within the mechanics instead for this re release. Other popular game titled 'Moon Princess', had a '100' re release last year. With the slot titled 'Moon Princess 100', being released. It seems some older games are being brought back with new mechanics but visuals stay with the original style.
Rise Of Olympus 100 has a setup of 5 reels by 5 rows, this includes cluster pays of 3 or more matching symbols in a row horizontally or vertically. This slot is high variance with a set RTP of 96.20% and a max win capped at 15,000x. You can bet from £0.20 to £100.
Rise Of Olympus 100 Symbols & Pay Table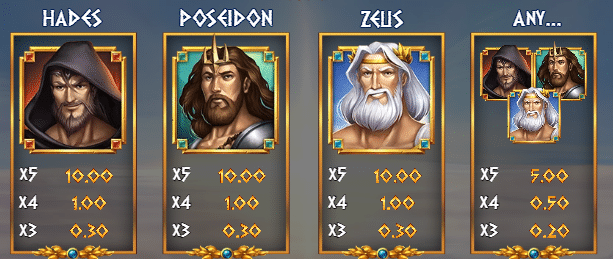 There are 8 symbols in total, this includes 4 low paying symbols. These are represented by Lightning Bolts, Tridents, Helmets and Lyres. There are also 3 premium symbols, these are represented by Zeus, Poseidon and Hades. In addition to these regular symbols is a Pegasus Wild, which substitutes for all symbols. The highest paying symbol is the Pegasus Wild, which pays 50x for 5 across a pay line.
Rise Of Olympus 100 Features & Mechanics
There are 3 mini features which can be triggered randomly on non-winning spins. These possible mini features are;
Hades – Converts one set of symbols.
Poseidon – 1 to 2 Wilds are added to random grid positions.
Zeus – Removes two sets of symbols from the grid.
The Meter is charged with premium symbol wins. Filling this meter will trigger the Wrath Of Olympus mini feature. 3x Wins Fill up 1 section, 4x Wins Fill up 2 sections and 5x Wins Fill up 3 sections.
Wrath Of Olympus – Hades, Poseidon and Zeus will perform their special power in one spin.
During base game spins there is a multiplier, which starts at 1x and increases by 1x for each symbol win. This multiplier is reset between base game spins.
Clearing the grid will trigger the Free Spins feature and award 50x if completely cleared (Not including Wilds). This prize is affected by the active win multiplier. These are 3 different Free Spins options to choose from, these are;
Hades – 4 Free Spins.
Poseidon – 5 Free Spins.
Zeus – 8 Free Spins.
When the Free Spins feature is triggered there are 3 options to choose from. Hades, Poseidon or Zeus which award 4, 5 or 8 Free Spins. During spins on every non-winning spin, the god's special ability is triggered. Filling the meter will award an additional 4, 3 or 2 spins depending on which feature you chose. With a maximum of 100x and a growing multiplier which increases by 1x for every symbol win. This multiplier can reach up to 100x and does not reset between spins.
Conclusion
Overall, I had high expectations for a re release of this very popular slot release, a game I myself enjoy playing in my spare time. Visually I was hoping for a big revamp, with new modern visuals and possibly different gods appearing. Instead visuals have stuck with the original style and no major changes have been made. The same symbols have been used, the same 3 god characters and each background. I do love that each god has his own unique background which appears and animations for their unique feature. Now onto the mechanics and features;
Each god has their own unique mini-feature, which can be triggered during the base game consistently and their own Free Spins feature. Now Free Spins can reach up to 100 and the multiplier can reach 100x. These new caps have increased the potential within this slot, the 20x multiplier was achieved too often in my opinion in the original game. Now these retriggers in the Free Spins allows you to reach higher multipliers. The Free Spins feature is more exciting than ever and the 3 options are more crucial when deciding. There is more you can aim to achieve now with this 100x multiplier potential and number of Free Spins you can be awarded with enough retriggers. Be sure to try out the game for yourself and check out our exclusive casino offers.