Twitch Gambling Ban Confirmed
It has been a while since I have shared any casino news or updates. I am back trying to keep up with all the drama and controversy which comes with the casino world. I have recently been sharing Q&As from studios which discuss burning questions from the community and teasers for upcoming launches. Including a Q&A with Push Gaming and a Q&A with Blueprint Gaming. Today we are going to be talking about the biggest announcements to hit the industry this year. There is a Twitch Gambling Ban Confirmed; what will this mean for gambling content on the streaming platform?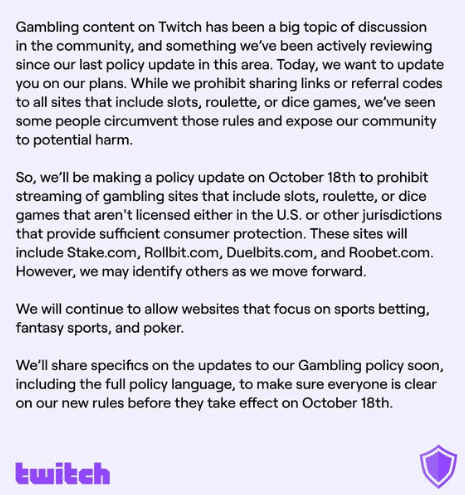 Gambling content on the popular streaming platform Twitch has been a hot topic of discussion for many reasons. Including 'Mizkif Rejecting a $35k an hour sponsorship deal' and claims against Casino 'Stake' in particular. Twitch has confirmed they have been reviewing their policy. With plans to prohibit sharing links or referral codes to any sites that include any kind of casino. Including any slots, table games, dice games etc. To also prohibit streaming of gambling sites that are not licensed in the US or other jurisdictions that do not provide sufficient consumer protection. The sites, Stake.com, Rollbit.com, Duelbits.com and Roobet.com are currently confirmed, and more are to be identified. Websites that focus on sports betting, fantasy sports and poker will continue to be allowed. This policy update will hit Twitch on October 18th, and more information will be shared when this policy has been changed. I think this is a step in the right direction for Twitch, and it will affect some casino streamers. What do you think of these upcoming changes?